Oxy's legendary baseball coach, who coached 10 SCIAC championship teams, will receive association's highest honor.
Legendary Oxy coach Bill Anderson, whose baseball squads won 10 conference titles over three decades, will be inducted into the American Baseball Coaches Association Hall of Fame in January 2021.
Founded in 1945, the ABCA is the primary professional organization for baseball coaches at the amateur level, with nearly 13,000 members representing all 50 states and 25 countries. Induction to the ABCA Hall of Fame is the highest honor bestowed by the organization. Anderson, who died in 1969, is one of eight inductees into the class of 2021. The hall was established in 1966.
A three-sport star in high school (baseball, basketball, and football), Anderson lettered in football for two years at the University of Illinois. He arrived at Oxy as an assistant coach in 1924, taking the helm of the baseball program in 1930 and varsity basketball and football two years later. In 1939, he became director of athletics as well.
Under Anderson's leadership, Oxy baseball teams amassed an overall record of 144-41 (.778) and notched 10 league titles over 25 seasons. In league play, his teams combined for a 77-9 (.895) record, the highest winning percentage of all Oxy championship teams.
In his final four seasons at Oxy (1951-54), Anderson's teams captured four consecutive Southern California Intercollegiate Athletic Conference titles, going undefeated in league play in 1952 and 1954. His 1932 and 1934 teams also finished the season undefeated in league competition. Anderson coached the top five hitters (based on career batting average) and 12 of the top 15 in Oxy baseball history. In addition, seven of the top 10 single-season batting average performances came from Anderson-coached players.
On the mound, he coached three of the top four pitchers (based on career win percentage) in school history and coached the only two pitchers (Dick Sovde '56 and Frank Bennett '54) to throw no-hitters in the same season (1954). A total of seven no-hitters were thrown by Tiger pitchers during his tenure.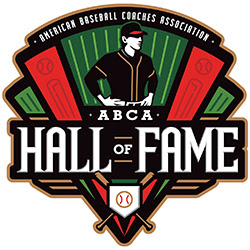 In all, Anderson guided 50 players to 68 All-SCIAC honors between 1933 and 1954 and coached over 60 future Oxy Baseball Hall of Fame inductees. He enjoyed most of his greatest success after surviving an auto accident in 1941 that nearly killed him and left him physically impaired for the rest of his life.
In 1954, following his final season at Oxy, Anderson was inducted into the NAIA Hall of Fame—the first of many such honors he would receive (including the Oxy baseball, basketball, and athetics halls of fame). Anderson Field, the Tigers' baseball home since 1950, is named for him as well.
Murray Via '54, who played center field for Anderson, spearheaded the campaign to induct his former coach into the ABCA Hall of Fame. "I really held him in awe, as a human being first and as a coach second," said Via, who holds the all-time Oxy records for career (.434) and single-season (.500) batting average.
The 2021 ABCA Hall of Fame induction ceremony will be held during the 77th annual ABCA Convention on Friday, Jan. 8, 2021, at the Gaylord National in Washington, D.C. Tickets to attend the Hall of Fame Banquet will go on sale September 1.