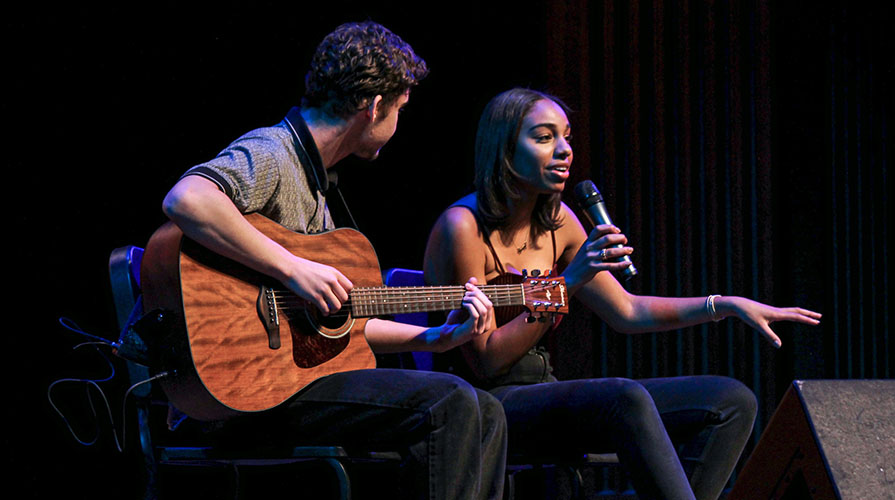 This year's Black History Month expands opportunities to commemorate Black history and achievement beyond the campus community.
February 2
Join the Intercultural Community Center on Wednesday, Feb. 2 from 4 to 5 p.m. PST as they kick off Black History Month. Robin Maxile, associate director for racial equity at Occidental, will be in conversation with Kevin D. Richardson, member of the Central Park Exonerated 5. April 19, 1989 started off as a normal day for 14-year-old Kevin, but that night would change the course of his life and American society forever. 30 years later, Kevin D. Richardson is an advocate for criminal justice reform and uses his personal experience with false coercions and unjust convictions to bring about change. He has partnered with the Innocence Project, a non-profit organization dedicated to exonerating wrongfully convicted people through DNA testing. In addition, Syracuse University created the "Our Time Has Come" (OTHC) Kevin Richardson Scholarship. The scholarship fund focuses on people of color and helps them achieve an education when they might not have had the financial means to do so. Register Now
February 3 & 17
Emmons Wellness Center and the Intercultural Community Center will honor Black Student Alliance (BSA) and BIPOC students during the CARE for BIPOC sessions, facilitated by staff therapist Irma Breakfiled and Robin Maxile, associate director for racial equity, on Feb. 3 and Feb. 17 at the ICC. CARE for BIPOC aims to confront covert and overt racism that is infused in mainstream societal spaces both on and off campus. Spaces like these are essential to addressing oppressive systems and redefining what it means to have community. Taking "care" of ourselves can look many ways but in this space we hope to lead with compassion, affirm experiences, respect our differences, and express empathy as we make sense of our experiences at predominantly white institutions.
February 9
Reading and understanding the lived experiences that parallel the stories and lives often dreamed about, or that mimic their own, can give Black queer people what is deeply desired: to be seen and heard. Join the ICC on Feb. 9 as we celebrate in the Lavender Lounge. During this event, we center Black queer voices with the opportunity to relax with a 15 minute professional massage as they reflect and illustrate the challenges and triumphs of their Black and queer identities. 
February 9
The Black Student Alliance will host a roller skating night celebrating Oxy's Black student community at Moonlight Rollerway from 5-7 p.m on Feb. 9. The goal of the event is to create new and lasting experiences for members to commune within the Greater Los Angeles area. Students will be transported via Fast Deer Bus Charter, adhering to COVID community & city guidelines. Please contact Nick Graves or Nancy Massillon for more information.
February 14
Faculty, students, staff and alumni are invited to engage in dialogue as part of ICC's Spring 2022 Book Series. This year, the ICC aims to celebrate and honor bell hooks by purchasing 50 copies of the book, All About Love, to give away to Oxy community members. The ICC will coordinate a series of optional group discussions about the book following Valentine's Day, facilitated by staff from the Division of Student Affairs and students who work as ICC Equity Ambassadors.
February 16 & 17
This year's Black Alumni Association Stafford Ellison Wright Symposium welcomes Scholar-In-Residence Justin Dunnavant of the University of California, Los Angeles. Dunnavant is an archeologist and Assistant Professor of Anthropology at UCLA. His current research in the US Virgin Islands investigates the relationship between ecology and enslavement. The symposium will include two events open to the public: a lecture by Dunnavant titled "In Search of Maroon Geographies: Archaeologies of African Fugitivity in the Virgin Islands" on Feb. 16 at 5-6:30 p.m. PST and a panel titled "New Approaches to Caribbean History and Heritage" on Feb. 17 at 5-6:30 p.m. PST. Read more about Professor Dunnavant.
February 23
From 5 to 6:30 p.m., join the Intercultural Community Center and Residential Education & Housing Services (REHS) as they reopen the MLK Lounge located in Pauley Hall. In 2021, as part of the Black Action Plan, REHS worked closely with students to make renovations to the MLK lounge. This semester, REHS and the ICC plan to celebrate the students and community members who have supported the development of MLK lounge and contributed to the Black Action Plan thus far. Attendees will learn more about the Black Action Plan, its progress, and its future goals to uplift Black students at Oxy. Live music and light beverages will be served outside. 
February 24
SLICE is screening the film School Daze on Feb. 24 at 7 p.m. on the JSC quad. "At historically black Mission College, the activist-minded Dap (Larry Fishburne) immerses himself in a world of political rhetoric and social movements -- one day he hopes to rally the students as a united front. At the other end of the spectrum, Julian (Giancarlo Esposito), the head of the biggest fraternity on campus, is more concerned with maintaining a strict social order. In between, Dap's conflicted cousin, Half-Pint (Spike Lee), spends most of his time rushing the fraternity."
February 25
A yearly tradition returns: the Black Student Association (BSA) presents Apollo Night on Feb. 25. This is BSA's biggest event of the year and celebrates the talent of the Oxy community during Black History Month. Student performances will include singing, dancing, poetry and more, with winners receiving prizes. Auditions are Jan. 19 and 26 and are open to anyone with any talent; all you have to do is sign up for a time slot. For more information, follow the BSA Instagram account.