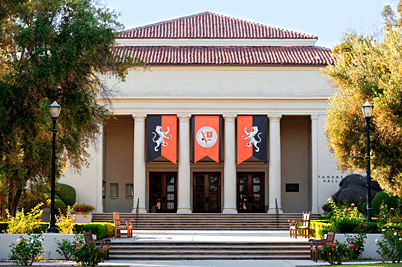 A much-anticipated proposal for a Black Studies curriculum at Occidental has been submitted for a formal review process expected to lead to faculty approval of a Black studies major as early as spring 2018.
"Our formal proposal for Black Studies is now moving through the required multi-step review process," says Erica Ball, professor of American Studies and co-author of the proposal. "We have taken great care to ensure that our proposed curriculum not only builds upon the most current intellectual trends in the field, but also reflects the larger mission and values of Occidental."
The proposal will be reviewed by several constituencies in the coming months, including the faculty's Academic Planning Committee, prior to consideration by the full faculty in the spring 2018. If approved, students will be able to declare a Black Studies major or minor beginning with the fall 2018 semester.
Co-authored by Ball and Courtney Baker, associate professor of American Studies, the proposal was developed over the past year in consultation with numerous faculty members from 10 different academic departments whose teaching and research involves Black Studies topics. Current students also were surveyed to gauge interest in the proposed program.
The proposal outlines a course of study intended to give students a breadth of knowledge in the discipline. In addition to the Introduction to Black Studies course (American Studies 110, which will be offered for the first time in Spring 2018) the major and minor will require students to take courses in three areas: expressive forms, historical perspectives, and politics and theory.
"I am very excited that students might well soon have the option of majoring in Black Studies," Baker says. "I believe that we have put together a strong proposal that reflects the strengths of Oxy's faculty in this area and will give students a robust education in the field that is on par with that of other institutions."
Formed over the summer, a Black Studies advisory board will continue to discuss the best ways to roll out the new curriculum. Advisory board members are Ball, Baker and James Ford, assistant professor of English; Ainsley LeSure, assistant professor of politics; Regina Freer, professor of politics; Movindri Reddy, associate professor of diplomacy and world affairs; and Sharla Fett, professor of history.