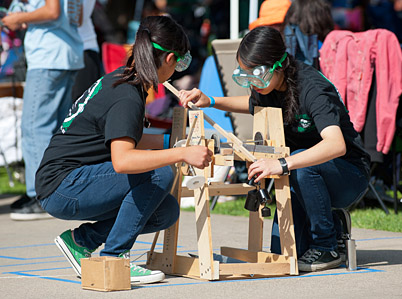 For the third year, Occidental will host the Los Angeles Regional Science Olympiad, a rigorous K-12 science, engineering and technology competition. Students from 130 private and public schools will compete on Saturday, February 23 in astronomy, chemistry, engineering and other fields.
Students prepare for the tournament for months. Akin to an academic track meet, the Science Olympiad has about 60 events in three divisions: elementary, middle and high school. Approximately 2,000 local students grouped into 15-person teams will compete in events that require not just knowledge, but critical thinking and problem-solving skills. They include designing a mousetrap, analyzing satellite images and inventing and playing a musical instrument.
About 150 Occidental and Caltech science and engineering professors and students, naturalists from the Los Angeles County Outdoor Science School and other local science educators will judge the competition, now in its 27th year. Events will be held across campus, both in buildings such as Thorne Hall and Booth Hall, as well as on the Academic Quad and other outdoor locations.
Most tournament events are open to public viewing. Exceptions are Bottle Rocket, Chopper Challenge, Egg Drop, Sounds of Music, Mission Possible, Wheeled Vehicles and Bridge Building.
The three winning teams from each division go on to the state tournament in April. Winners of the state competition then battle other top teams May 17-18 at the 29th annual Science Olympiad National Tournament at Wright State University in Dayton, Ohio. Nearly 6,000 teams from 49 states compete annually in hopes of reaching the national level. Besides a trophy and bragging rights, winners also receive grants up to $2,000 for their school.
Seven to eight schools in each division from the regional competition usually advance to the state competition, and several have reached the national level. Rosemead's Muscatel Middle School, coached by science teacher Jun Lugue '98 M'99, placed fourth in the national tournament in 2011 and 2009, and was the state champion in 2009 and 2010.
The Science Olympiad is an international, nonprofit organization devoted to improving the quality of science education, increasing student interest in science and providing recognition for outstanding achievement in science education by both students and teachers. It began in Michigan in 1982.