Submitted by kwall_admin on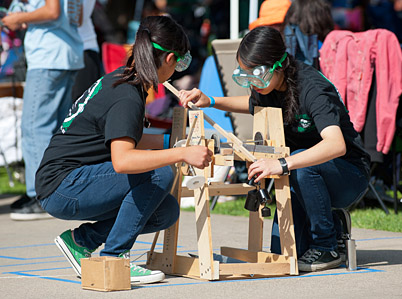 For the fifth straight year, Occidental will host the Los Angeles Regional Science Olympiad, in which students ages 9-18 from about 140 public and private schools will go egghead to egghead for the chance to compete on a national level. 
This year's all-day event will take place on Saturday, February 28.
Students prepare for months for the tournament, which has about 70 events in three divisions: elementary, middle and high school. About 2,000 local students grouped into 15-person school-based teams compete in events that require not just knowledge, but critical thinking and problem-solving skills.
In particular, the Science Olympiad engages students in science and engineering practices that mirror how scientists and engineers think and work, while stressing collaboration, communication and creativity.
About 150 Occidental and Caltech science and engineering professors and students and other local science educators will judge and officiate the competition, now in its 31st year. Events will be held across campus, both in buildings such as Thorne and Booth halls as well as in the Quad and other outdoor locations. A number of the tournament events are open to public viewing.
Students compete in the divisions of Earth & Space Science, Physical Science & Chemistry, Technology & Engineering and Inquiry & Nature of Science.
Subcategories include Anatomy and Physiology, Astronomy, Cell Biology, Experimental Design, Forensics and Technical Problem Solving.
Back this year is the popular Scrambler, in which high school students must build a vehicle powered by a gravitational falling mass with an egg strapped to the front. The Scrambler must get as close to a wall as possible without touching it and thus "scrambling" the egg. The exact distance the Scrambler must travel is not provided in advance.
Middle-school students will face a somewhat similar challenge with RoboCross: They have to build a remote-controlled car that will push different items such as ping pong balls, tennis balls and batteries around to different locations on a course to accumulate points.
The event that always draws the biggest crowd is the Egg Drop off of the library patio. Elementary-school students must build a device that will cradle an egg so that it will hit a target on the ground but not crack.
Always fun for elementary-age kids is the Pasta Mobile, in which they must construct a vehicle out of any kind of dried pasta and adhesive and then compete to see how far their vehicles can roll down a curved inclined plane.
Other popular events include the Tennis Ball Catapult, the Bungee Drop, Write It/Do It, the Can Race and Crime Busters. New for 2015 is a Paddle Boat competition in the Oxy fountain.
Several winning middle and high school teams go on to compete at the state finals in April. Winners of the state competition then battle other top teams May 15-16 at the 32th annual Science Olympiad National Tournament at the University of Nebraska, Lincoln. Besides a trophy and bragging rights, winners receive grants up to $2,000 for their school. 
What began as a grassroots assembly of science teachers is now one of the premiere science competitions in the United States, providing rigorous, standards-based challenges to 7,000 teams in 50 states.