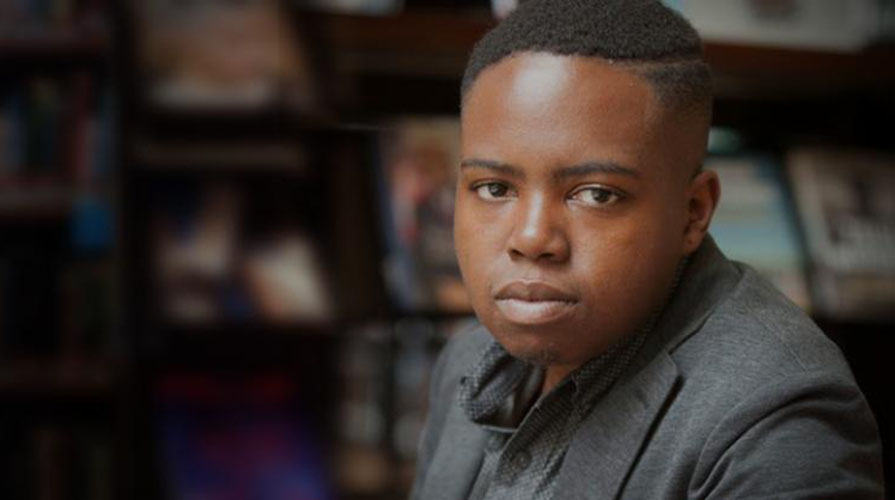 University of Chicago cultural theorist C. Riley Snorton has been named Occidental College's 2020 Stafford Ellison Wright Black Alumni Scholar-in-Residence.
Snorton, professor of English language and literature, will be in residence at Occidental February 18-20. He will deliver a public lecture, "In Search of Refuge: On Marronage and Migrancy," at 7 p.m. on Tuesday, February 18 in Choi Auditorium and will discuss the complexities of migrancy across the Black diaspora with UCLA's SA Smythe at 7:30 p.m. on Wednesday, February 19 in Choi.
A cultural theorist who analyzes representations of race and gender throughout history, Snorton is the author of two widely acclaimed books, Black on Both Sides: A Racial History of Trans Identity (University of Minnesota 2017), and Nobody Is Supposed to Know: Black Sexuality on the Down Low (University of Minnesota Press 2014). One reviewer called Nobody Is Supposed to Know "a stunning new chapter in queer theory," while Black on Both Sides was the winner of multiple awards, including the Lambda Literary Award for Transgender Nonfiction and a selection as an American Library Association Stonewall Honor Book in Nonfiction.
"C. Riley Snorton's research has altered the fields of Black studies, Queer studies, and gender studies," says James Ford, associate professor of English. "Occidental is fortunate to have Snorton share his cutting-edge scholarship with students, faculty, alumni and the broader SoCal community."
Snorton's lecture will draw on his new book-length manuscript, tentatively entitled Mud: Ecologies of Racial Meaning. "In juxtaposing the narratives of Harriet Jacobs and Wu Ching Pong, he interrogates the procedures of fugitivity, defined here as the pursuit of 'freedom from,' without making recourse to the logic of periodization," Ford says. "By tarrying in the mud, this paper asks questions about the swamp as a fecund site for thinking about the implications of thinking ecologically rather than historically about race in the Americas."
The Feb. 19 discussion with SA Smythe, poet, translator, transdisciplinary scholar and assistant professor of African American studies at UCLA, will explore the complexities of migrancy across the Black diaspora.
Widely in demand as a speaker, Snorton has been a recipient of a National Endowment for the Humanities fellowship at the New York Public Library's Schomburg Center for Research in Black Culture, an Andrew W. Mellon postdoctoral fellowship at Pomona College, and two fellowships at Harvard's W.E.B. Du Bois Institute for African and African American Research. He received his Ph.D. from the University of Pennsylvania Annenberg School for Communication with graduate certificates in Africana studies and women, gender, and sexuality studies.
Created by Occidental's Black Alumni Organization (BAO), the Stafford Ellison Wright Endowment enables distinguished Black scholars from a variety of fields, artists, elected officials and others to spend time in residence at Occidental each year. BAO members believe that a student's educational experience will be enriched by in-depth contact with individuals who serve as symbols of excellence.
The Endowment honors Occidental's first Black graduates, all members of the Class of 1952: Dr. Janet Stafford, George F. Ellison, and Barbara Bowman Wright.