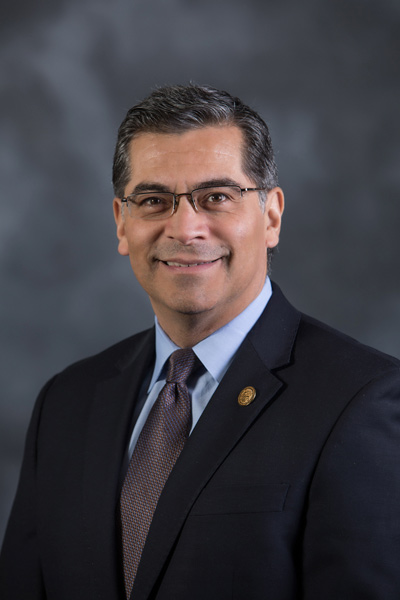 California Attorney General Xavier Becerra will be the featured speaker at Occidental College's 135th Commencement ceremony on Sunday, May 21.
Becerra was sworn in as California's 33rd attorney general in January. He is the first Latino to hold the office in the history of the state. Gov. Jerry Brown selected Becerra to succeed Kamala Harris, who was elected to the U.S. Senate in November.
Becerra previously served 12 terms in Congress representing portions of central and Northeast Los Angeles, including the Occidental campus. While in Washington, Becerra rose through the ranks to become the highest-ranking Latino in Congress, serving as a member of the powerful Committee on Ways and Means and chair of the House Democratic Caucus.
Prior to serving in Congress, Becerra served one term in the California Legislature as the representative of the 59th Assembly District in Los Angeles County. He served as a deputy attorney general with the California Department of Justice from 1987 to 1990. He began his legal career in 1984 working in a legal services office representing the mentally ill.
A native of Sacramento, Becerra is the son of immigrants. He was the first in his family to receive a four-year college degree. He earned his undergraduate degree in economics from Stanford University and his juris doctorate from Stanford Law School.
Also receiving honorary degrees will be:
New York Times reporter Andrea Elliott '96, winner of the 2007 Pulitzer Prize for feature writing for a three-part series of articles about the life of an Egyptian imam who leads a mosque in Brooklyn. Currently an investigative reporter for the Times, her 2013 series chronicling the life of an 11-year-old homeless girl won a George Polk award, among other honors, and prompted New York City officials to remove more than 400 children from substandard homeless shelters.
Brenda Shockley '68, Los Angeles deputy mayor for economic development. Shockley joined Mayor Eric Garcetti's administration in May 2016 after more than 24 years as president of Community Build, a nonprofit she helped found in the wake of the city's civil unrest in 1992. Her work to revitalize communities in South Los Angeles has resulted in more than $100 million of investments in education, employment and training programs for young people.
Commencement will begin at 9 a.m. in the Remsen Bird Hillside Theater on the Occidental campus. Live streaming will be available for those unable to attend. More information is available here.