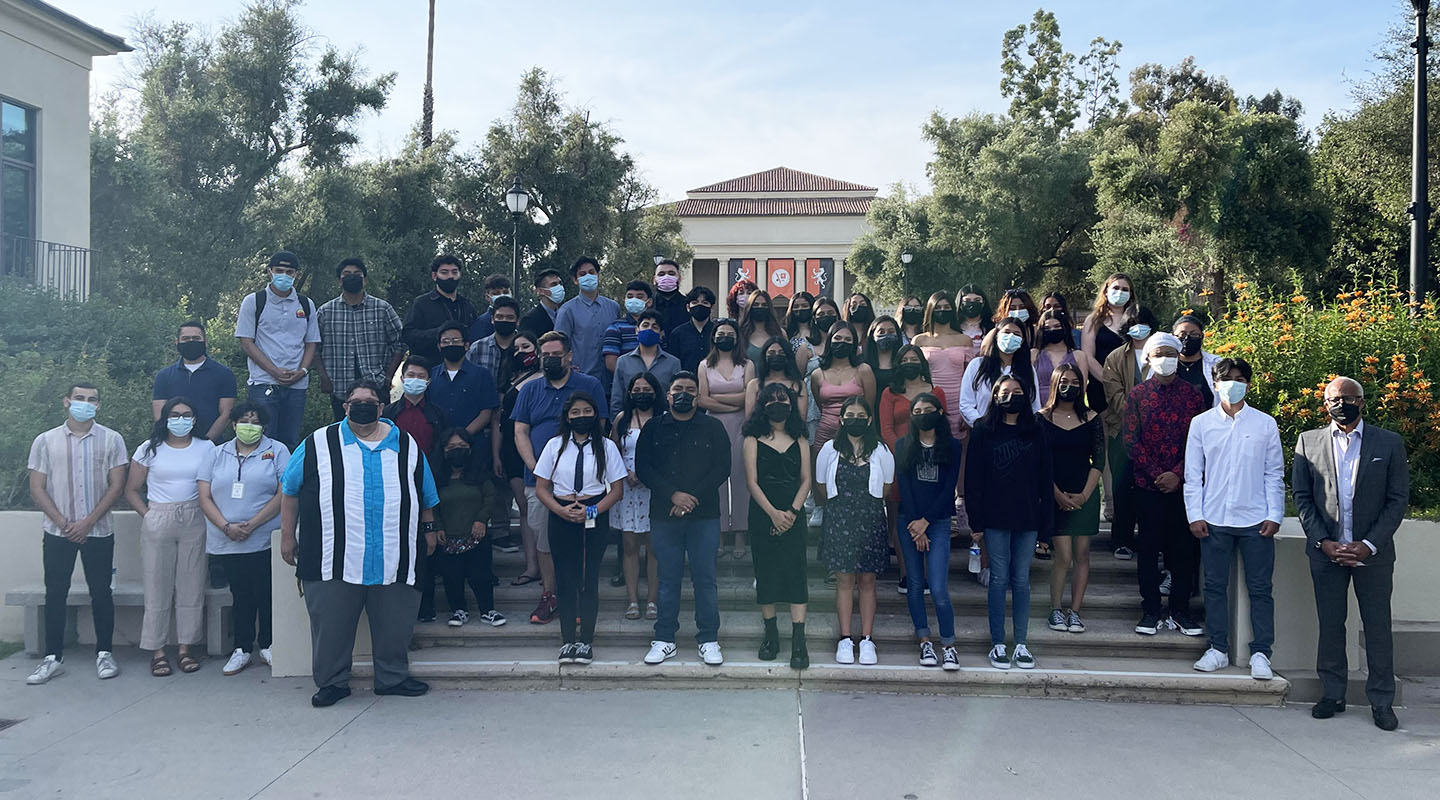 A $68,000 California Community Foundation (CCF) grant is making it possible for Occidental College's Upward Bound program to continue to provide safe, in-person college-prep services to low-income high school students from Northeast Los Angeles despite the COVID-19 pandemic.
The grant, awarded as part of the foundation's L.A. County Summer Learning Initiative 2021, has allowed Oxy Upward Bound to implement a variety of pandemic-related safety procedures and mental health services essential for an in-person program for this year's 51 scholars, all of whom would be the first in their families to attend college.
"This grant has allowed us to provide additional services that normally we would not be able to provide, including an onsite student success coach and a nurse," says program director Jesus Maldonado. "The success coach has been key because for many of our students this has been their first opportunity to be in a classroom since March 2020. It can be a daunting experience for them."
This is the second year that a CCF grant has made it possible for Oxy Upward Bound to offer a hybrid commuter/residential program for its students. Last year's $20,000 grant helped make Oxy one of the few Upward Bound programs to run an in-person program in 2020.
The commuter program provides flexibility for families uncomfortable with their students living on campus during the pandemic. All students participate in two courses for credit, tutoring sessions and workshops on applying to college, careers, STEM, and cultural enrichment. They also had the opportunity to participate in a justice bootcamp led by faculty from Occidental's Critical Theory & Social Justice Department and a workshop hosted by Esports Performance Academy.
Though Upward Bound scholars in the residential program have to follow strict COVID policies, they still manage to have a great summer experience. It's still the traditional residential program, but with COVID restrictions, says Joseph Benitez, a senior from nearby Franklin High School. "We still get to have the brotherhood (and sisterhood) feel because we all get to know each other and get to live in the same residence hall. It's great to be part of one of the few programs that is running a safe in-person program."
Rochelle Abrigo, a classmate of Benitez, adds, "It's been an interesting experience being a commuter student.  Even though I am not participating in a residential program, I get to experience great classes and learn about the college-going process. I really loved being here this summer and I am grateful that the program was able to continue."
Oxy's year-round program welcomed its first students in 1966, and is one of the oldest Upward Bound programs in the country. Over the past three decades, 94 percent of participants—currently drawn from Franklin, Lincoln, Wilson and Belmont high schools in the Los Angeles Unified School District--have graduated from high school and enrolled in college. Under ordinary circumstances up to 122 students participate in the program each year.
The Upward Bound program began as part of President Lyndon B. Johnson's "war on poverty," and is one of several related programs created by the Educational Opportunity Act of 1964. Four years later, it was transferred to the Department of Education, which remains the primary funder of the program.
You can find more information on Occidental's participation in the program here.