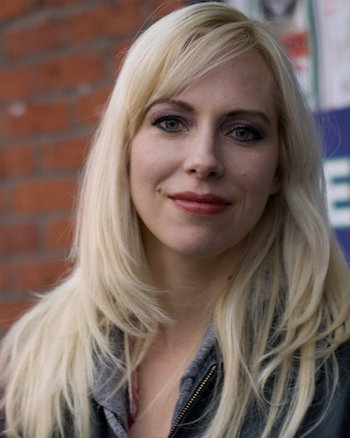 Occidental College Associate Professor of Politics Caroline Heldman recently was honored by Stanford University's Program in Writing and Rhetoric and the city of West Hollywood for her work on issues of race and gender representation in the media and her advocacy on behalf of sexual assault survivors.
Heldman, who serves as research director for the Geena Davis Institute on Gender in Media, was awarded the Media Equity Award at the 4th Annual Getting Played Symposium on Equity in the Entertainment Industry at Stanford March 9. The award recognized Heldman's scholarly work on media representations of race and gender, her role at the Davis Institute, and as co-founder of the Women's Media Action Coalition, organizer of the annual Women's Media Summit, and creator of GradeMyMovie.com.
She also was presented with a Women in Leadership Award by the City of West Hollywood March 28 for her work with campus sexual assault survivors and survivors involved in the Bill Cosby case, and her advocacy on behalf of the abolition of the statute of limitations for sexual assault in California and nationally, as well as on behalf of passage of the Equal Rights Amendment to the U.S. Constitution.
"I am so humbled by these awards, and I an honored to receive them on behalf of all of the fearless activists with whom I work," Heldman said.
In addition to her advocacy and policy work, Heldman is a sought-after political commentator who regularly appears on CNN, MSNBC, CNBC and other national and regional media outlets. She recently published two new books: Protest Politics in the Marketplace: Consumer Activism in the Corporate Age (Cornell University Press) and (with Dr. Lori Cox Han) Women, Power and Politics: The Fight for Gender Equality in the United States (Oxford University Press).