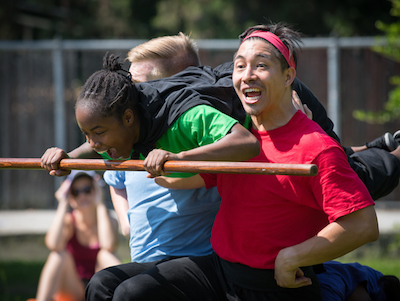 The critically acclaimed Occidental Children's Theater will celebrate its ​23rd year with an original story, Doctor Scooby-Doolittle, plus three adventurous adaptations of traditional folktales, for a seven-week outdoor run in the Remsen Bird Hillside Theater on the Occidental campus.
Summer performances will run Thursday through Saturday, beginning at 10 a.m., July 5 through August 18. 
In about an hour, ​the cast of six will perform four energetic and funny stories without props, sets or special costumes, relying only on their acting and acrobatic skills. Doctor Scooby-Doolittle was conceived by Jamie Angell and directed by Tristan Waldron '12 and features Dyoni Isom '19, London Murray '18, Jonathan Padron '14, Sergio Perez, Billy Schmidt '17 and Amanda Wagner '16.
This year's additional stories are "Coyote and the Turtle" from Mexico, "The Legend of the Stone Cakes" from Ireland and "Maui Slows the Sun" from Hawaii. 
"The cast carries it off with the unflagging charm that has made this reliable company one of the Southland's — and the summer's — most entertaining children's theater offerings," wrote the Los Angeles Times.
Tickets are available online or at the door. Group discounts are available. Click here for maps and directions to the College. 
In addition, there is still space in our Summer Institute of Fun! Register now.