Submitted by kwall_admin on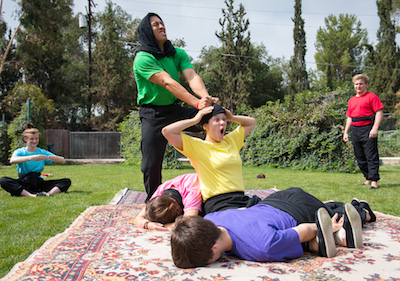 Can't score tickets to Hamilton? The critically acclaimed Occidental Children's Theater will celebrate its 21st year with Little Red Frankenhood and three additional adventurous stories for a seven-week outdoor run in the Remsen Bird Hillside Theater on the Occidental campus.
Performances of the stories that mix myths, fairy tales and pop culture are Thursday, Friday and Saturday at 10 a.m., July 7 through August 20, and run about an hour.
Frankenhood is directed by Tristan Waldron and features Savannah Gilmore '15, Eleanor Goulden '18, Nicholas Justice '17, Jonathan Padron '14, Billy Schmidt '17 and Amanda Wagner '17.
The actors work without props, sets or special costumes, relying only on their acting and acrobatic skills. The Los Angeles Times has described Occidental Children's Theater as "one of L.A.'s little gems, an acrobatic outdoor theater romp presented with imagination and whiz-bang physicality."
Tickets are $12 for adults and $9 for children 2 to 12 years old. Click here to purchase. Discounts are available for groups of 15 or more. Call (323) 259-2771 or email theater@oxy.edu to reserve your group tickets.