Submitted by kwall_admin on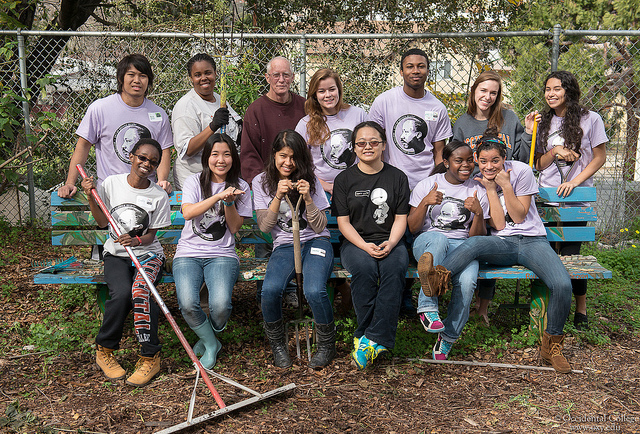 Occidental joins a national initiative to support civic learning and democratic engagement.
Occidental is among one of 70 colleges and universities in the nation to be named a "Lead Institution" by NASPA – Student Affairs Administrators in Higher Education, the leading voice for the student affairs profession. As such, the College has been selected to participate in a national initiative on civic learning and democratic engagement.
As a participating institution in NASPA's initiative, Oxy will continue to encourage students' civic development through thoughtful community partnerships, engaging leadership opportunities and democratic participation. 
"It's wonderful to be nationally recognized for the work we have been doing and will be doing in terms of civic engagement," said Ella Turenne, assistant dean for civic engagement.
At Oxy, civic and community engagement are designed to foster collaboration between community partners and faculty, students and staff. This model of community-based learning is directly related to the College's  mission of excellence, equity and service, and the academic program's interdisciplinary, multicultural focus with its deeply rooted commitment to the public good.
"What's good about Oxy is we've always had this commitment. Although it has looked different as time has passed, the way we do it has become strengthened over time," Turenne said. "Much of the work we've done in the past will be culminating this year."
Oxy has a wide range of curricular and co-curricular civic and community engagement programs and projects. Each semester, a minimum of 20 community-based learning classes are offered, and half of Oxy students take at least one of these courses during their time at the College. Co-curricular activities that focus on community engagement include the Engaging Citizenship Alternative Spring Break Program and Days of Service events, including the 9/11 Day of Service, MLK Day of Service and Cesar Chavez Day of Service. Additionally, the College's Urban and Environmental Policy Institute  promotes  various community-based programs such as the Farm to School program, the Healthy School Food Coalition and THE (Trade, Health and Environment) Impact project.