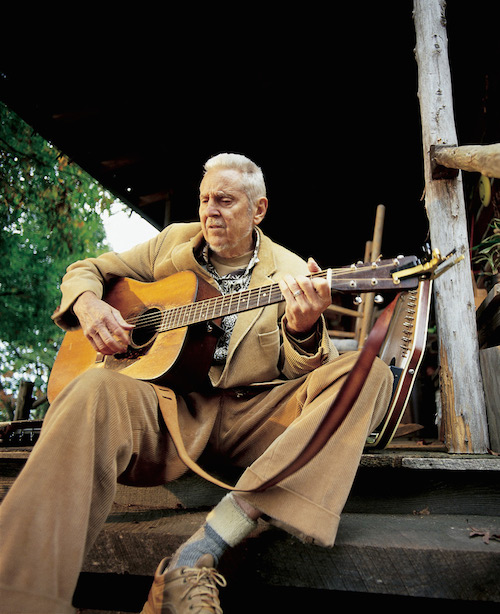 Guy Carawan '49, the folklorist and singer who introduced the anthemic song "We Shall Overcome" to the civil rights movement, has died.
His passing on May 2 generated international headlines, with a front-page obituary in the New York Times and other tributes in the Los Angeles Times, the Guardian and Telegraph in London, and The Nation.
It was in April 1960 that Carawan – then the new musical director at the Highlander Folk School in Tennessee – sang what was then a little-known folk song at the founding meeting of the Student Non-Violent Coordinating Committee in Raleigh, N.C.
"When some chords and a pulse were put to it, it drew people in with the rhythmic thing added to it and the power of the harmony, and a very clear, simple text," Carawan told Occidental magazine in a 2002 interview. Carawan, together with Pete Seeger, Zilphia Horton and Frank Hamilton, were credited with the new words and arrangement to an old song brought to Highlander by the workers of the Negro Food and Tobacco Union of Charleston, S.C.
It was at Occidental, where he majored in mathematics, that Carawan was first drawn to folk music. His earliest performances involved singing and playing the ukulele as part of  the ATO fraternity's Oh By Jingo Trio at picnics and parties. But a folklore class he took from associate professor of language Austin Fife, then president of the American Folk Song Society, sparked a passion that Carawan pursued for the rest of his life.
Carawan remained with Highlander until his retirement in the late 1980s. At the urging of Peter Dreier, E.P. Clapp Distinguished Professor of Politics, Carawan returned to Occidental in 2003 to visit classes and perform in concert, during which he was presented with an honorary degree by President Ted Mitchell.
"Your life's work as a musician, folklorist, teacher, activist, and pioneer in the American civil rights movement has demonstrated the enormous power of music to transform people's lives," the degree citation read.  "Some people make history; you sang and played it for more than half a century in pursuit of racial and social justice."