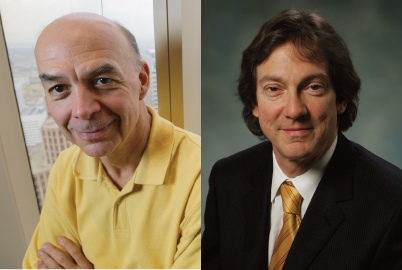 What can you do with a liberal arts degree? End up on Billboard's new Power 100 list of movers and shakers in the music industry.
Economics major Steve Cooper '68, who took over as CEO of Warner Music Group in August 2011, is ranked No. 14, while political science major John Branca '72, longtime industry attorney and co-executor of the Michael Jackson estate, is at No. 51. The Power 100 appears in Billboard's February 16 issue.
It's Cooper's first time in the Power 100, as the premier turnaround executive's previous clients have been an eclectic mix in other industries: movies (Metro-Goldwyn-Mayer), retail (Federated Department Stores), energy (Enron), and fast food (Krispy Kreme Doughnuts), among others.
Branca, whose clients have included more than two dozen members of the Rock and Roll Hall of Fame, is no stranger to the Power 100—he was No. 72 last year. But his role as co-executor of the Jackson estate "has provided him with an international profile as well as the most identifiable measure of accomplishments in the last year," Billboard notes.
Coincidentally, both Cooper and Branca will be among the speakers on an April 20 music industry panel at Occidental—part of the College's Founders Day celebration that will bring Oxy's 125th-anniversary year to a close.
The panel features Oxy's own short list of music power players: Cooper; Branca; philosophy major Richard Leher '66, executive vice president of Hollywood Records and longtime rep for the Rolling Stones; and fellow philosophy major Ian Montone '89, whose management company Monotone Inc.  represents such artists as Jack White, Foster the People, the Shins, and Danger Mouse.
Panel moderator will be Ramona Gonzalez '09, aka Nite Jewel, the indie pop-funk artist who majored in—you guessed it—philosophy.