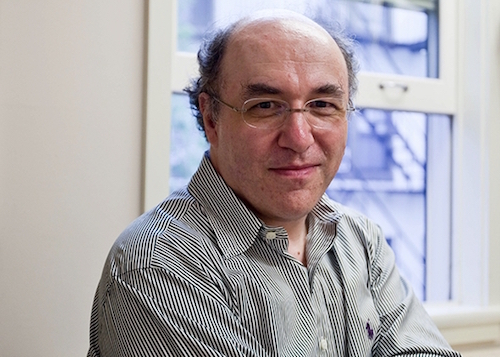 Computer scientist, physicist and entrepreneur Stephen Wolfram will speak on "Life in the Computational Universe" at 4:00 p.m. on Wednesday, March 22 in Choi Auditorium as the 2017 Occidental College Phi Beta Kappa speaker.
Underwritten by the Ruenitz Trust Fund Endowment in honor of Dr. and Mrs. Robert C. Ruenitz , the Occidental Phi Beta Kappa Speakers Series Lecture is free and open to the public.
Originally a physicist who turned his creative curiosity to computer science, Wolfram has been a pioneer in the development and application of computational thinking over the past four decades. After introducing Mathematica, the integrated technical computing program, he went on to develop Wolfram Language, which allows programmers to concentrate on defining what they want to do -- and the language automatically figures out how to do it.
Educated at Eton, Oxford and Caltech, Wolfram received his doctorate in particle physics from Caltech at age 20. He joined the Caltech faculty and the following year became the youngest recipient ever of a MacArthur Fellowship.
While his early scientific work focused on high-energy physics, quantum field theory and cosmology, he soon launched an ambitious new line of inquiry aimed at understanding the origins of complexity in nature. After a distinguished career in academia – first at Caltech, then at the Institute for Advanced Study at Princeton and finally at the University of Illinois – Wolfram launched Wolfram Research Inc., which released Mathematia in 1988.
The Phi Beta Kappa Speakers Series was created in 2006 with a gift from New York entrepreneur Robert M. Ruenitz '60 and his wife Jeri Hamilton through the Ruenitz Trust to honor the memory of Ruenitz's parents, Esther Merriman Ruenitz and Dr. Robert C. Ruenitz.
Founded in 1926, the Occidental Delta Chapter of Phi Beta Kappa is one of the first chapters of the country's oldest academic honor society to be chartered at a liberal arts college in the western United States.
Previous Ruenitz lecturers have included former Vermont Gov. Howard Dean, MD; Ahmed Zewail, the Nobel Prize-winning chemist; author and educational critic Jonathan Kozol; social critic Judith Butler; author and activist Ayaan Hirsi; Bill Nye the Science Guy; medical activist Paul Farmer; mental health legal expert Elyn R. Saks; and psychologist and human memory expert Robert A. Bjork.