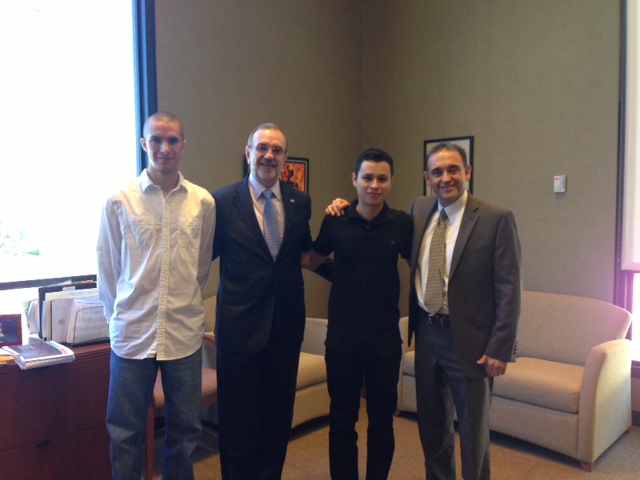 On the strength of its support for Mexican and Mexican-American students, Occidental College has received a $9,250 grant from the Consulate General of Mexico for the IME-Becas Scholarship (Institute for Mexicans Abroad). The grant will support two Oxy scholars in the 2013-14 academic year. 
The scholarship benefits Mexican nationals, students of Mexican origin and/or undocumented Mexicans in Los Angeles County who demonstrate academic excellence. This year's IME-Scholars are Bernardo Alba '15, a sociology major from Mexico City, and Jorge Rivera '14, a math and Spanish double major from Los Angeles.
"I'm delighted and grateful to be the subject of consideration and recognition by the Mexican government," Alba said. He described his ultimate ambition as to become an educator "in both the narrow and broad sense of the word." He says that the grant will afford him the possibility to complete his Oxy education and go on to a Ph.D. in order to "help provide future generations with the perspective with which to effect societal change."
Rivera hopes his education will help him make a difference in his family and community. "Coming from a working-class community, I saw the struggles my parents had to go through in order to get our family by … their will to see me and my sisters succeed is what helps fuel my ambition," he says. "I am grateful and honored to be a recipient of this award."
Director of Corporate and Foundation Relations Cassandra Meagher and Dean of the College Jorge Gonzales attended an October16 award ceremony and received the grant on Occidental's behalf. 
IME-Becas scholarships are awarded on the strength of recipients' academic records; previously demonstrated leadership ability as evidenced by campus and community engagement, public service and contributing to the welfare of others; and seriousness of purpose with ambition and aspiration to make a positive difference in local, regional or national communities.
The total amount awarded to 10 recipient organizations in the Los Angeles area was $60,000. Seven "community plazas" -- centers established by the Mexican government for adult immigrants to complete their basic education -- and three higher-education institutions received financial aid from IME-Becas. In addition to Oxy, the University of LaVerne and CSU Dominguez Hills received awards.