Submitted by kwall_admin on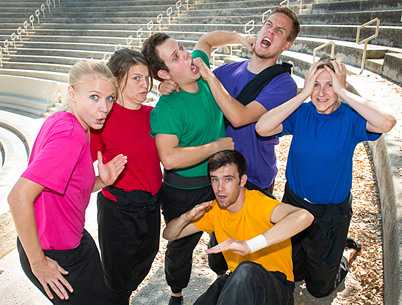 The actors in the critically acclaimed Occidental Children's Theater will leap, tumble, and emote their way into their young audience's hearts for the 17th summer in a row.
Beginning July 12, this small troupe will continue its tradition of performing stage adaptations of folk and fairy tales for children by presenting an original play called Crouching Tiger, Sleeping Beauty, as well as three shorter adaptations of international folktales. Performances will go on for seven weeks in Occidental's Hillside Theater at 10 a.m. Thursdays through Saturdays.
Tickets are $10 for adults and $7 for children. Groups of 15 or more can get discounts by calling (323) 259-2771.
The College's children's theater group aims to entertain young children with whimsical plots and humorous or acrobatic movements; however, adults may also enjoy jokes in dialogue or characterization that youngsters miss. The titles of previous productions, including Beauty and the Beatnik and Trumpelstiltskin, illustrate the company's effort to include parents in the fun. 
Six actors, either current Oxy students or alumni, work together with director and professor Jamie Angell and stage manager Alyssa Escolante to create the scripts. To do this they read several stories, discuss and vote on the group's favorites, and then brainstorm the action. The actors use no props or sets, relying on gymnastic movements as a way to tell the story physically.
Before rehearsals or brainstorming sessions begin, the actors undergo a two-week training camp. Nick Erickson, founder of the acrobatic Diavolo Dance Company, has taught members of the company the athletic side of acting for eight years.
"In its mission, OCT strives to engage, invigorate and empower children through the physical expression of the imagination, to create stories from many cultures accessible to every child," says Angell. "By telling stories without props, sets or special costumes, using only the actors' bodies, voices and imaginations, OCT demonstrates that the means to tell any story is within everyone's grasp."
To purchase tickets, please click here.