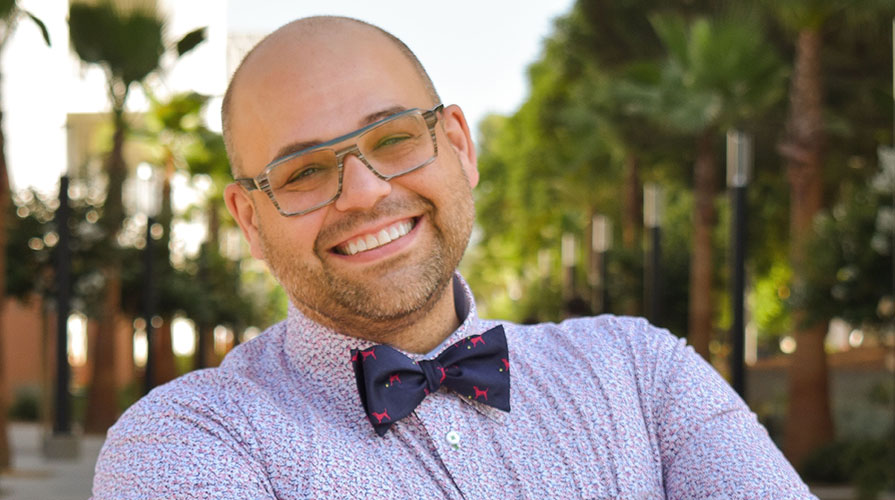 David T. Carreon Bradley has been named Occidental College's new vice president for equity and justice and chief diversity officer after an extensive national search.
Carreon Bradley comes to Occidental from Cal State Fullerton, where he served as faculty diversity officer, responsible for all diversity, inclusion and equity matters as they relate to academic affairs.
"As a first-generation college student, queer person, and faculty member of color in a STEM field, Dr. Carreon Bradley has deep knowledge of the challenges and barriers to achieving a truly equitable and just experience for all members of the Oxy community," says Occidental President Harry J. Elam, Jr. "He is committed to working with faculty, staff, and students to help Oxy achieve its equity and justice aspirations."
"I am honored and excited to join the Occidental community and help lead the College on its journey to becoming a more equitable and just institution," Carreon Bradley says. "My goal is to collaborate with partners across the College to maintain, develop, and accelerate the work to dismantle inequities and ensure that all students, staff, and faculty have a strong sense of belonging and the opportunity to succeed."
Carreon Bradley began his diversity, equity, and inclusion administration work as a faculty member at Vassar College, where he became the first tenured faculty member of color in the Physics & Astronomy Department. He chaired the college's Committee on Inclusion + Equity and subsequently served as the chief diversity faculty-administrator for three years. He then moved into a vice president/chief diversity officer role at Smith College prior to returning to Los Angeles to take on his previous role at CSUF.
A native Angeleno, Carreon Bradley received his BA in physics with a minor in gender and women's studies from Grinnell College, and his Ph.D. in architectural engineering-acoustics from the University of Nebraska. He is currently finishing his Ed.D in organizational change and leadership at USC.
He is a member of the board of directors of the Society for the Advancement of Chicanos and Native Americans in Science and a member of professional organizations including the Acoustical Society of America and the National Association of Diversity Officers in Higher Education.