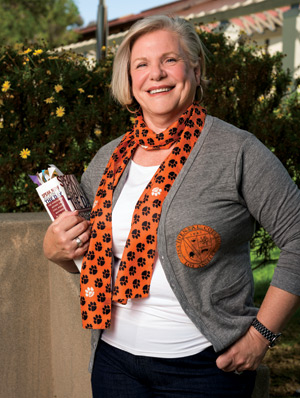 Deborah Martinson, Occidental College professor of writing and rhetoric and director of writing programs, died of cancer at her Burbank home on Saturday, April 26. She was 67.
A member of the Occidental faculty since 1991, Martinson was a graduate of Cal State Chico who received her master's at Cal State Northridge and her Ph.D. in English literature at USC. A specialist in the areas of biography, autobiography, and fiction within particular historical and political contexts, she was the author of biographies of those whom she called "complicated women": Lillian Hellman: A Life with Foxes and Scoundrels and the recently completed Virginia Durr: Southern Radical Come Hell or High Water, a life of the white Alabama civil rights leader.
As a teacher of creative nonfiction, Martinson believed in the communicative and transformative power of writing. She served as a summer faculty fellow at the Norman Mailer Writers Colony in Provincetown, Mass., and the founder and force behind the Oxy Writing Network for the past 19 years. The 2009 winner of the Tod and Linda White Teaching Prize, she continued to teach throughout this semester even as her health declined. As one colleague said, "She lit up when she entered the classroom."
She is survived by her husband, Barry; daughter Hope; son Jay; four grandchildren; and her German shepherd Tina Fey. A memorial service will be held on Friday, May 2 at 11 a.m. at Faith Community Church, 461 Central Ave., Fillmore. A celebration of her life will be held at Occidental this fall after the faculty and students return.