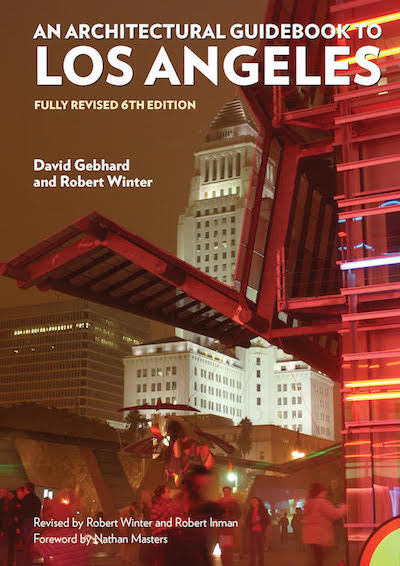 Over the past half-century, Robert Winter and the late David Gebhard's An Architectural Guidebook to Los Angeles has been called "groundbreaking," "iconic" and "immortal." Reyner Banham began his seminal 1971 book Los Angeles: The Architecture of Four Ecologies by recording "his profound and fundamental debt" to Winter and Gebhard.
To celebrate the publication of the new fully revised sixth edition of L.A.'s "architectural bible," Occidental College's Institute for the Study of Los Angeles and Angel City Press will host a book launch party from 1 to 2:30 p.m. on Sunday, December 9 in Lower Herrick Chapel on the Occidental campus.
Attendees are asked to pre-register via Eventbrite. Copies of the new edition will be available for purchase.
Winter, now age 94, will be on hand for the festivities and might be persuaded to making a few remarks. Robert Inman '72, his collaborator on this new volume, will present a "guide to the guide" and describe the process of revising the landmark book that has served as an essential resource for generations of students, tourists, preservationists and enterprising real estate agents.
First published in 1965 by the Los Angeles County Museum of Art, the guidebook has been extensively revised and edited by Winter, Arthur G. Coons Professor in the History of Ideas Emeritus at Occidental, and Inman, author of A Guide to the Stairways of Los Angeles (2008) and Finding Los Angeles By Foot (2013). (David Gebhard, a prominent architectural historian and preservationist, passed away in 1996.) The foreword is written by Nathan Masters, Emmy Award-winning host of the public television series, Lost L.A.
The much-anticipated revised edition has been thoroughly updated with more than 2,300 entries that catalog a wide range of styles and significant structures – houses, commercial and government buildings, schools and churches in Los Angeles County, from the earliest adobes to the latest contemporary buildings.
When presenting Winter with its 2009 President's Award, the Los Angeles Conservancy cited the Gebhard and Winter Guide for playing a key role in changing the public perception of the city "from an endless landscape of sprawl to a trove of unique architectural treasures … the guide remains a vital resource and key factor in fostering a culture of preservation in Los Angeles."
The oft-quoted, much-honored Winter taught at Occidental for 31 years before retiring in 1994. He is the author or co-author of dozens of books, monographs and articles on California architecture, the Arts & Crafts movement and tilemaker Ernest Batchelder, in whose Pasadena home Winter lives.
One of the founders and former president of the Southern California chapter of the Society of Architectural Historians, Winter is a former member of the California State Historical Resources Commission and past president of the Los Angeles Cultural Heritage Board and Pasadena's Cultural Heritage Commission. He helped develop L.A.'s citywide architectural survey and co-authored Pasadena's cultural heritage ordinance.