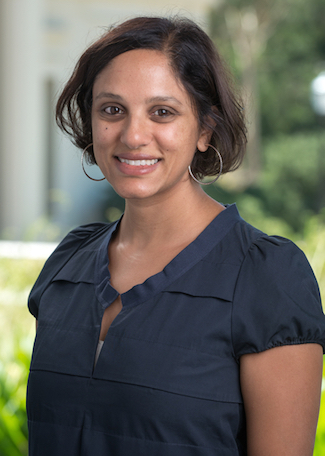 Occidental College's Bhavna Shamasunder has been appointed as one of four public members of the California state Board of Registered Nursing by Senate President pro tem Kevin de León (D-Los Angeles).
Shamasunder, an assistant professor of urban and environmental policy, studies issues related to environmental health and justice with focus on the disparate and cumulative burdens faced by communities of color and the poor.
The Board of Registered Nursing is responsible for the implementation and enforcement of state laws related to nursing education, licensure, practice, and discipline. The nine-member board has four members of the public and five registered nurses. Seven members are appointed by the Governor and two of the public members are appointed by the Legislature.
Shamasunder, who earned her Ph.D. at UC Berkeley, attributes her appointment to her environmental health research, most recently with Los Angeles communities that are experiencing health impacts from neighborhood oil drilling.
"Sen. DeLeon is a strong representative for environmental issues and I am honored that with this appointment he chose to represent those issues on the board," she said. "While it does address licensing and discipline of nurses, the board also takes up larger policy issues affecting the healthcare profession. My work over the years addressing health disparities and working with organizations that seek to reduce toxics throughout the healthcare industry is a good fit. I look forward to supporting efforts towards population health and well-being from a different vantage point. "