Submitted by kwall_admin on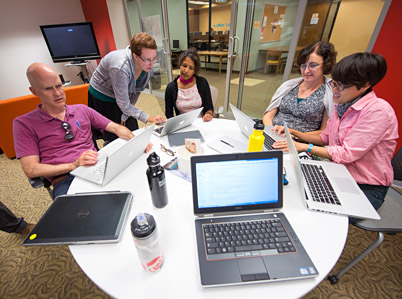 A grant from the Michael J. Connell Foundation will equip a digital production studio to help launch a new generation of Occidental College students fluent in audio, video, and computational production, regardless of major.
The $68,900 grant from the Pasadena-based foundation will address the growing number of multimedia assignments faculty are asking of their students, remedy existing equipment shortages, and make it possible for training to include more students, said Daniel Chamberlain, director of Occidental's Center for Digital Learning + Research (CDLR).
"One of our goals is to help students make the transition from recreational to academic and critical uses of technology," Chamberlain said. "The Connell Foundation's support will play an essential role in helping us enhance teaching, learning, research and scholarly work by both students and faculty."
The grant will fund the purchase of video and audio production equipment, GPS devices and GPS-enabled digital cameras, post-production software and a 3D printer. All of the production equipment will be available for checkout by students.
At the same time, the CDLR will offer a series of workshops and courses on topics such as digital storytelling, oral/video history methods and Web-based media to augment the existing curriculum and offer what it calls critical media training to students from any major.
The digital production studio will open in fall 2013 in Occidental's Mary Norton Clapp Library, which is being re-imagined as the College's Academic Commons. "The studio will be one of the showcases of the new Commons," Chamberlain said.
The Michael J. Connell Foundation, formed in 1931, supports cultural, educational, environmental and medical endeavors, primarily in the Los Angeles area.