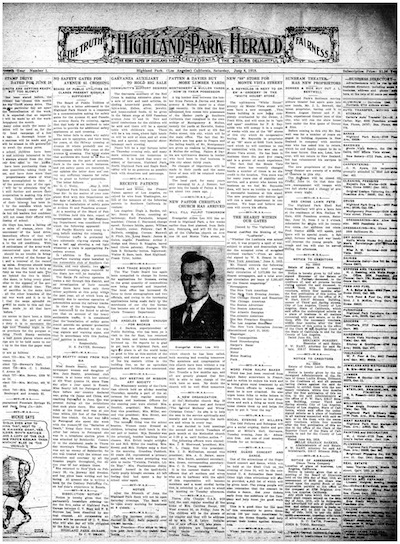 A $35,000 grant from the John Randolph Haynes and Dora Haynes Foundation to form an innovative partnership between the Occidental College library and two local historical societies will help preserve a unique historic resource: 20th-century newspapers of northeast Los Angeles.
Developing a plan to create a repository for more than a dozen community newspapers that chronicle local history is part of an ongoing collaboration between the Eagle Rock Valley Historical Society, the Highland Park Heritage Trust and the library to promote the preservation and awareness of local historical materials.
"For a century, the newspapers of Eagle Rock, Highland Park, Mt. Washington and other local communities chronicled a vibrant, culturally and socially diverse region of Los Angeles," said Dale Stieber, Occidental's special collections librarian and college archivist. "A repository for print, microfilm and digitized issues of the papers makes an important contribution to northeast L.A.'s historical identity by preserving a resource that isn't available anywhere else and making it more accessible."
Over the years, the Society and the Trust have played a leading role in preserving backfiles of newspapers such as the Eagle Rock Sentinel and Highland Park News Herald. Joined by the library in 2010, the partners have gathered, housed and inventoried significant holdings in microfilm and physical copies of more than a dozen local papers dating from 1906 to 1996.
The grant will fund an archivist/project manager to lead the planning effort to preserve the papers and make them more accessible. The project includes the identification of missing publications and/or issues and the costs of making a representative number of issues available online through the statewide California Digital Newspaper Collection at UC Riverside. 
The grant also will make it possible for library staff, Society and Trust members, Occidental students and community members to develop a pilot project and then move forward to raise resources to sustain the repository and digitization program. The grant proposal was supported by City Council members Eric Garcetti, Jose Huizar and Ed Reyes, whose districts include the newspapers' old circulation areas.
The repository will provide an important new resource for K-12 students, local historians, genealogists, civic groups and student and faculty scholars.  "The existing resources available from UCR have been instrumental in furthering our understanding of the early development of our community. We look forward to the revelations that a searchable database of our local papers will provide," said Society President Eric Warren.
"This grant is a tribute to the partnership that has been developing over the last couple of years with the Society and the Trust to better preserve and document the history of northeast Los Angeles," said Bob Kieft, College Librarian. "Occidental grew up with this quadrant of the city, and the College library is happy to be working with our neighbors on a variety of projects, of which this one is the largest to date."