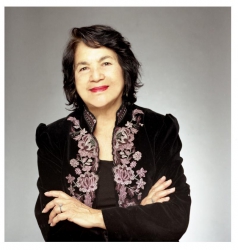 The l
abor leader, civil rights icon and recipient of the Presidential Medal of Freedom 
comes to campus Tuesday, March 25.
The lecture, which begins at 7 p.m. in 
Thorne Hall,
 is free and open to the public. 
Along with Cesar Chavez, Dolores Huerta cofounded the National Farmworkers 
Union, later known as the United Farm Workers. 
At 83, Huerta continues to work tirelessly developing leaders and advocating for the working poor, women, and children. As founder and president of the Dolores Huerta Foundation, she travels across the country engaging in campaigns and influencing legislation that supports equality and defends civil rights. She often speaks to students and organizations about issues of social justice and public policy.
Huerta's appearance is presented by the
Office of Intercultural Affairs
as part of 
a series of programs celebrating Women's Herstory Month and Semana de la Raza. 
The lecture is sponsored by the Intercultural Community Center, t
he Center for Gender Equity, La Raza Coalition, OCE, OCLAA, t
he Politics Department, the Remsen Bird Fund, OSL, the education d
epartment, and Latino/a and Latin American Studies. 
For more information, contact Sean Ford at 323-259-1405 or visit the Intercultural Community Center's Event page.