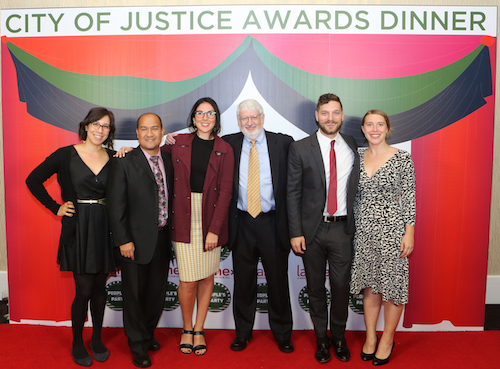 Occidental College's Peter Dreier was recognized as a 2016 City of Justice Awards honoree Dec. 8 for his work to advance social justice by the Los Angeles Alliance for a New Economy (LAANE).
Dreier, the E.P. Clapp Distinguished Professor of Politics and chair of the Urban and Environmental Policy Department at Occidental, was one of three individuals honored in front of more than 750 elected officials, labor and business leaders, and Occidental alumni, faculty and staff at the Beverly Hilton Hotel.
Also honored this year were Ricardo F. Icaza, long-time chief executive officer of United Food and Commercial Workers union Local 770, and Kafi D. Blumenfield, former president and CEO of the Liberty Hill Foundation, one of the nation's leading social change foundations.
In accepting the award, Dreier thanked the leaders of community groups, environmental organizations, public interest law firms, unions and foundations who have provided internships to Oxy students and often hired them after graduation. "You've been a full employment program for Oxy alums who want to work for social justice," he said.
A member of the Occidental faculty since 1993, Dreier writes and lectures widely on American politics and public policy, specializing in urban politics and policy, housing policy, community development, and community organizing. He is quoted regularly in national media, and his commentary regularly appears in The Nation, American Prospect, Huffington Post, Dissent, New York Times and Los Angeles Times.
Dreier is also the author or co-author of five books, including The Next Los Angeles: The Struggle for a Livable City and most recently The 100 Greatest Americans of the 20th Century: A Social Justice Hall of Fame.
He founded and now co-directs (with Politics Professor Regina Freer) Campaign Semester, Occidental's one-of-a-kind, every-other-year academic program in which more than 100 students have worked full-time on a local, Senate, House, gubernatorial or presidential campaign in a battleground state, returning to campus for an intensive period of reading and reflection.
In this and in more conventional settings, Dreier has served as a mentor to hundreds of Occidental students, many of whom have gone on to careers as elected officials, political organizers, and leaders in such groups as the UFCW union, the L.A. Black Worker Center, the East Los Angeles Community Corporation, the League of Conservation Voters and the Coalition for Humane Immigration Rights of Los Angeles.
The City of Justice Awards dinner is the largest gala of its kind in Los Angeles and celebrates innovative leaders who are helping to lift all Angelenos to a more compassionate, more equitable future. Past honorees and speakers include Los Angeles Mayor Eric Garcetti, California Attorney General Kamala Harris, publisher Arianna Huffington, former NAACP President and CEO Ben Jealous, and actor Sidney Poitier, among others.
For the past two decades, LAANE has led some of the nation's most dynamic economic and environmental justice campaigns, winning landmark policy victories that have reverberated across the country.