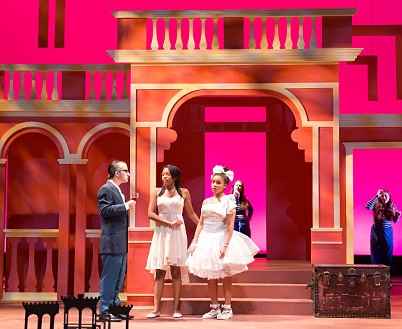 A gift of $400,000 from the Los Angeles-based Edgerton Foundation will enable Occidental College to partner with The Theatre @ Boston Court and A Noise Within to create the Edgerton Foundation Theater Program.  
The centerpiece of the four-year program will be extended joint residencies for directors and playwrights at Occidental and the two Pasadena theaters, both long-time partners of the College. The program also will offer an internship and fellowship program for current Occidental students and recent graduates.
"As a result of the generosity of Louise and Brad Edgerton, our students will gain a unique real-world opportunity to enrich their theater education, and the campus and the surrounding community will have the opportunity to enjoy outstanding visiting artists," said President Jonathan Veitch. "We couldn't be more delighted – or grateful."
Beginning in January, the Occidental theater department will coordinate guest artist residencies at Boston Court and A Noise Within, typically in both the fall and spring semesters. The artists will include directors and playwrights who will teach at the College. In addition, students will be able to apply for for-credit internships during the academic year and two paid internships during the summer. Recent alumni also will be eligible for two paid postgraduate fellowships.
"We are thrilled that this generous gift from the Edgertons will expand the opportunities available to our students in such a meaningful way," said Susan Gratch, theater department chair. "A Noise Within will expose them to classic texts, while Boston Court will allow them to experience the latest and most cutting-edge work. "
The Edgerton Foundation also funds a New American Plays national award program that was launched in 2007.  It has awarded grants to non-profit theatres for 150 new plays to date.  This is the first Edgerton Foundation grant that would link professional theaters with a college theater program.  The foundation also supports work in security issues, the environment and sustainable energy, and has also established the Antoinette and Vincent Dungan Lectureship on Energy and the Environment at Occidental in honor of Louise Edgerton's parents. 
Theater department alumni include Yale professor, set designer and National Medal of Arts winner Ming Cho Lee '53; Tim Sanford '74, artistic director of Playwrights Horizons in New York; Tony Award-winning actress Joanna Gleason '72; and Megan Wanlass Szalla '94, executive director of SITI Co.