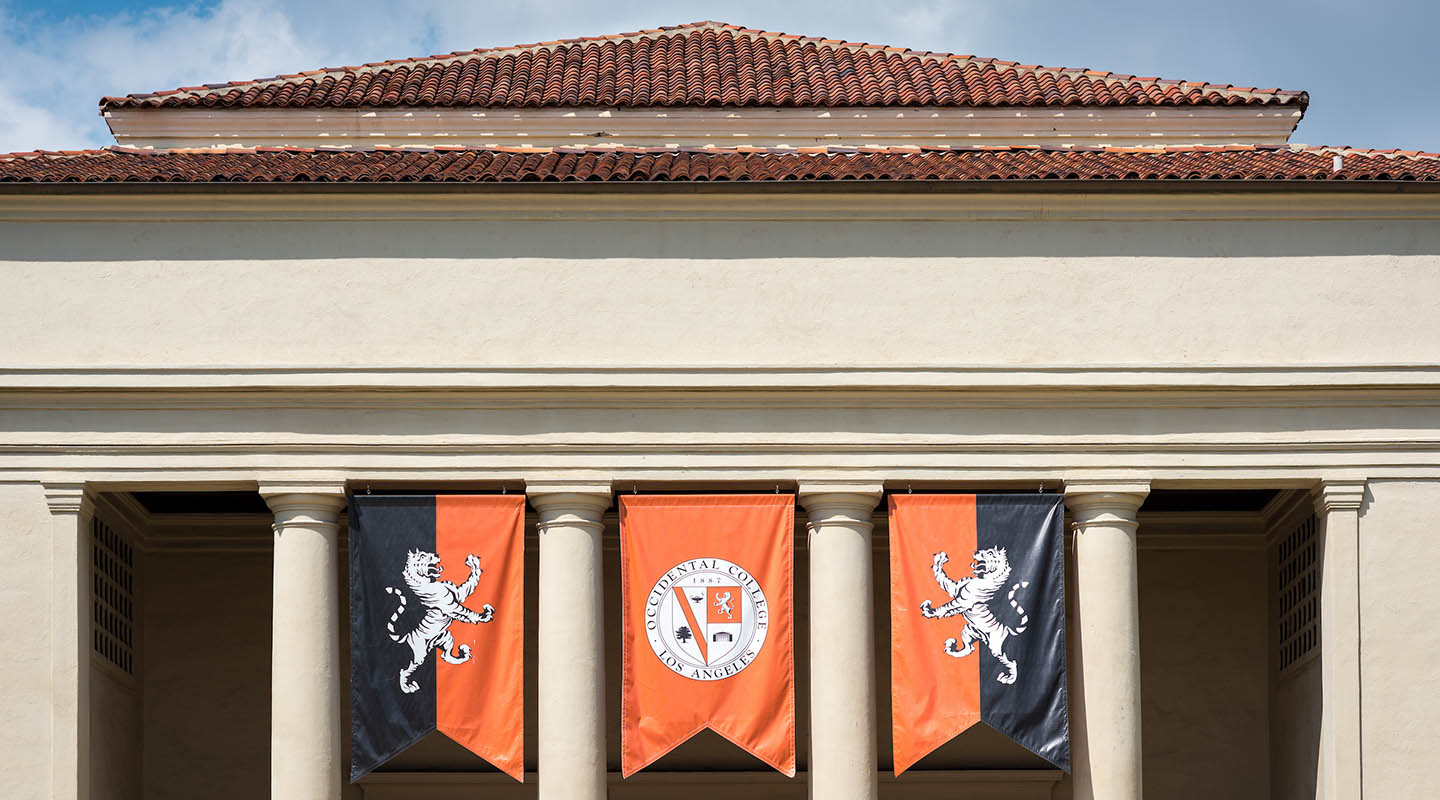 The Occidental College Board of Trustees has elected seven new members and recognized the valued service of two members who have stepped down from the board. An eighth member automatically joined the board upon being elected president of Occidental's Alumni Board of Governors.
Newly elected to the board are:
Namandjé N. Bumpus '03
Dr. Namandjé Bumpus is the U.S. Food and Drug Administration's chief scientist and E.K. Marshall and Thomas H. Maren Professor and chair of the Department of Pharmacology and Molecular Sciences at the Johns Hopkins University School of Medicine. Dr. Bumpus' laboratory research focuses on precision medicine and the development of drugs to treat and prevent infectious diseases. Dr. Bumpus joined the faculty at Hopkins in 2010. A biology major at Occidental, she earned her Ph.D. in pharmacology at the University of Michigan in 2007 and completed a postdoctoral fellowship in molecular and experimental medicine at The Scripps Research Institute in La Jolla in 2010.  
Lucia Choi-Dalton '89
Lucia Choi-Dalton helps arts and civic organizations enhance leadership and financial support. A founding advisor of the USC Glorya Kaufman School of Dance, her board service includes roles as president at Alonzo King LINES Ballet, vice chair of Fort Mason Center for Arts and Culture and of the Coro Center for Civic Leadership, and trustee of the Urban School of San Francisco. A music major at Occidental, Choi-Dalton has served as development director at UC Berkeley's International Relations office and the Yerba Buena Center for the Arts and managed fundraising programs at New York City Ballet and Ballet British Columbia. 
Lindsey Collins '94
Lindsey Collins is senior vice president of development at Pixar and an Oscar-winning movie producer. A diplomacy and world affairs major at Occidental, Collins started work at Disney Animation after graduation. She joined Pixar in 1997, where she co-produced the Oscar-winning animated feature WALL-E. Collins also produced Turning Red and Finding Dory, and has worked on Finding Nemo, Toy Story 2, Ratatouille and A Bug's Life.
W. Don Cornwell '69
Don Cornwell served for 21 years as chairman and CEO of Granite Broadcasting Corporation, a company he founded in 1988 that became one of the nation's 25 largest television station groups. A political science major at Oxy who earned his MBA at Harvard Business School, he worked for 17 years as an investment banker at Goldman Sachs before founding Granite. Currently, Cornwell serves on the boards of AIG, Natura Holdings, Viatris and Blue Meridian Partners, having previously served on the boards of Pfizer, Avon and CVS Caremark and as chairman of the board of the FCC's Telecommunications Development Fund.
Tuan Quang Ngo '07
Tuan Ngo is a senior associate with the global law firm of DLA Piper who focuses on such issues as corporate international tax and operational structuring, cross-border mergers and acquisitions, and U.S. taxation of foreign operations. A diplomacy and world affairs major at Occidental, Ngo earned his law degree at UC Hastings School of Law and his LL.M. at Georgetown. He is the immediate past president of Occidental's Alumni Board of Governors.
Leo Olebe '97
Leo Olebe is managing director, global games for play partnerships at Google. He was ASOC president and a politics and public policy double major at Occidental and earned an MBA at USC. He has more than two decades of experience in the games industry working for such firms as Facebook, Disney, Electronic Arts, BioWare and Warner Brothers. Olebe also serves on the board of Games for Change, which seeks to empower people of all ages and backgrounds to explore, learn, and create at the intersection of games and social impact.
Lawrence 'Larry' Solomon '84
Larry Solomon is a partner at The Capital Group, where he has been an analyst and portfolio manager for almost four decades. Earlier in his career at Capital, Solomon was an equity investment analyst covering computer hardware, software, communications equipment, computer services and imaging. An economics major at Occidental, Solomon is a Chartered Financial Analyst and also serves on the board of the Honor Foundation and the advisory board of Alive and Free.
Brenda Barham-Hill '71 P'03
Alumni Board of Governors president and ex-officio trustee
Hill is a retired higher education administrator with over four decades' experience in academic and student affairs and institutional advancement. She served as secretary to the Scripps College board and CEO of what was then known as the Claremont University Consortium, the central service entity for The Claremont Colleges. She also served for 30 years on institutional accreditation teams and as a consultant for the Western Association of Senior Colleges and Universities. Community service includes volunteer and board membership for a number of local non-profit agencies, including serving as a Syrian refugee advocate. 
Trustees who have recently retired from the board are Louise Edgerton '67 M'69 and Gordon MacInnes '63.