Submitted by kwall_admin on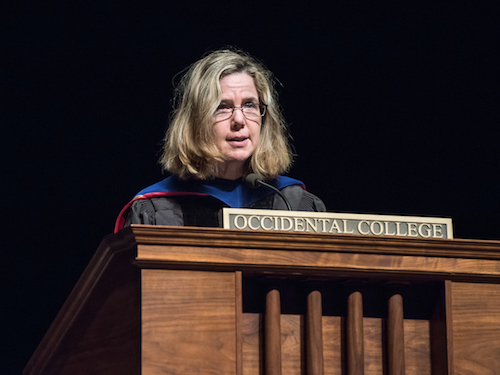 The American Council on Education (ACE) has named Eileen Spain, Occidental College's Carl F. Braun Professor of Chemistry and Associate Dean of the College, an ACE Fellow for academic year 2018-19.
Established in 1965, the ACE Fellows Program is designed to strengthen institutions and leadership in higher education by identifying and preparing faculty and staff for senior administrative positions through its mentorship model. More than 2,000 faculty and staff have participated in the program, with more than 80 percent going on to serve as senior leaders of colleges and universities.
Nominated by Occidental President Jonathan Veitch, Spain is one of 45 Fellows selected this year after a rigorous application process. She is one of only three Fellows in this year's class from a small liberal arts college.
"Academic governance is based on contributions and service from all members of the academic community," says Spain, a member of the Occidental faculty since 1995. "My exploration is a natural extension and responsibility of being a teacher, scholar, and scientist."
Spain, who teaches quantum mechanics, spectroscopy and nanochemistry and studies various physical and chemical interfacial phenomena, is no stranger to national recognition: she was honored with a Presidential Early Career Award for Scientists and Engineers from the National Science Foundation in 1997 and was one of seven chemistry professors to receive a 2003 Henry Dreyfus Teacher-Scholar Award. Most recently, in 2015 the Research Corporation for Science Advancement named her a Cottrell Scholar in recognition of her status as an outstanding teacher-scholar with an excellent record of research.
"Working in a research laboratory is collaborative and calls for creativity, communication, and resilience. I am used to collecting accurate and precise data and then identifying and interpreting any patterns," she says. "It is my nature to listen, consult, and learn from others. These qualities and work habits will continue to serve me well in an administrative role."
The ACE Fellows program combines retreats, interactive learning opportunities, visits to campuses and other higher education-related organizations, and placement at another higher education institution. During the placement, Fellows observe and work with the president and other senior officers at their host institution, attend decision-making meetings, and focus on issues of interest. Fellows also conduct projects of pressing concern for their home institution and seek to implement their findings upon completion of the fellowship placement.  Spain expects to learn of where her placement will be by early this summer.
She is at least the fourth Oxy faculty member to be selected as an ACE Fellow. Donna Maeda, professor of critical theory and social justice, was a 2006-07 Fellow who today is dean of the Institute for Global Citizenship at Macalester College. Mickey McDonald, associate professor of mathematics and associate dean for curriculum and academic affairs, was a 2001-02 Fellow and is now provost of Kalamazoo College. Professor of Mathematics and former Associate Dean and Faculty Council President Nalsey Tinberg was selected as a Fellow for the 1997-98 academic year.