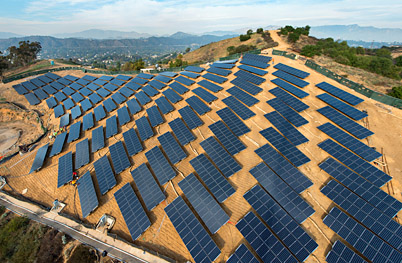 Occidental College will mark the end of its year-long 125th anniversary celebration on April 20 -- Founders Day -- with a look to the future: the dedication of its new 1-megawatt solar array, whose unique design combines engineering and art.
The 4 p.m. ceremony on Oxy's upper soccer field will be the centerpiece of the Founders Day's festivities, the College's annual event marking the anniversary of Oxy's founding in 1887 as Los Angeles' first and only liberal arts college.
As one of the largest ground-mounted arrays in the city, the array will generate approximately 11 percent of the College's annual electrical usage. The array will remove 1,250 metric tons of carbon dioxide from the atmosphere every year – the equivalent of removing about 250 automobiles from the road.
About one-quarter of the array's 4,886 panels are mounted over a campus parking lot. The rest hug the topography of a nearby hillside in a curving design created by the Lettuce Office of Los Angeles that "represents a new paradigm for arrays as architectural objects that, like buildings, are expected to contribute aesthetically to their environment," says President Jonathan Veitch.
Immediately preceding the array dedication will be a 2:30 p.m. panel discussion on the music industry, featuring a quartet of industry heavyweights: Richard Leher '66, one of the country's leading entertainment industry attorneys and long-time representative of the Rolling Stones; Stephen Cooper '68, CEO of Warner Music Group; John Branca '72, co-executor of the Michael Jackson estate; and Ian Montone '89, founder of the music management company Monotone, Inc. Moderating will be Ramona Gonzalez '09, otherwise known as the indie pop-funk artist Nite Jewel.
Two other panels featuring equally distinguished Oxy alumni will also be offered that day. The first is an 11:30 panel on immigration policy featuring Angelica Salas '93, executive director of the Coalition for Human Immigration Reform of Los Angeles and Clarissa Martinez De Castro '89, director of immigration and national campaigns for the National Council of La Raza.
That will be followed by a 1 p.m. presentation on creativity featuring Tor Myhren '94, president and chief creative officer of Grey New York, one of the country's oldest and largest advertising agencies.
Founders Day also will feature an old-fashioned carnival in the main Quad, with a 50-foot Ferris wheel, from 1 p.m. to 5 p.m. and a 12 noon performance of Hairspray, directed by Alan Freeman '66, in Keck Theater. A gala invitation-only dinner in the Remsen Bird Hillside Theater will cap the day's festivities.