Submitted by kwall_admin on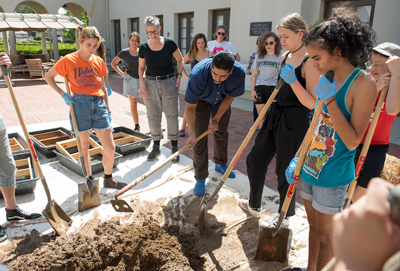 Rafa Esparza, Occidental College's Wanlass Artist in Residence, will close his semester-long residency with a special art installation and reception on campus on Thursday, April 20.  
HERE is a site-specific installation inspired by Esparza's work and interactions with students and staff during his time on campus.
For HERE, Esparza, whose work is featured in the Whitney Biennial in New York City, is crafting four adobe statues, each 5 feet tall, that will be installed at four locations on campus: the summit of Fiji Hill, Weingart Center patio, the Hameetman Career Center patio and the olive grove just north of Samuelson Pavilion.
The reception and unveiling will take place from 4:30 p.m. to 8 p.m. A procession will walk from statue to statue for each one's reveal, starting at Fiji, proceeding to Weingart, then Hameetman and finally the olive grove. The rest of the reception will take place at the Weingart Gallery, where objects that inspired the statues will be displayed. A self-guided walking map to the statues will also be available.
Esparza, a Los Angeles native who received his BFA from UCLA, works in a variety of mediums, including installation, sculpture, drawing, painting and performance. In his Occidental residency, titled Manos de Obra (Rituals in Land), he taught students how to craft adobe bricks, a skill he learned from his father.
"Rafa's work with our students has been transformative, and I'm confident it will continue to animate their learning across the curriculum," said professor of art and art history Mary Beth Heffernan.
Esparza engaged with students outside of the classroom as well, said Oxy Arts Director Deena Selenow. "From his moving public lecture about the intersection of his art practice and manual labor in California, to sharing his adobe brick-making process through a free public workshop, and bringing his students to participate in the Hammer Museum's In Real Life performance series, Rafa has immersed himself in the Oxy community," she said.
The art installation and reception are free and open to the public.
Get directions to the Weingart Gallery.
The Wanlass Artist in Residence is a semester-long residency program that allows an artist to investigate aspects of their practice and share it with the College campuswide. The program encourages cross-campus collaboration and thoughtful sustained interaction between artist and students.
The Wanlass Artist in Residence Program is made possible by generous support from the Kathryn Caine Wanlass Charitable Foundation.