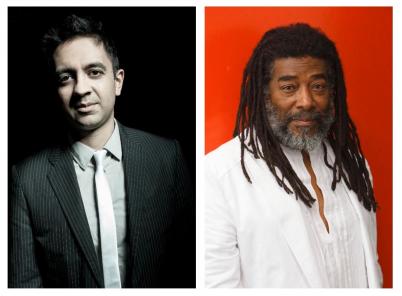 Jazz pianist and composer Vijay Iyer (recent MacArthur "Genius" Grant recipient and Harvard professor) and trumpeter Wadada Leo Smith (2013 Pulitzer Prize in Music finalist) will perform on Friday, April 15 at 7:30 p.m. in Thorne Hall.
Iyer and Smith will also give a master class from 5 to 6 p.m. in Bird Studio the same day. There will be a reception on Thorne patio prior to the performance at 6 p.m. The master class and concert are free and open to the public.
Iyer and Smith are this year's G. William Hume Fellows in the Performing Arts at Occidental. The duo have performed together many times over the years in Smith's much-heralded Golden Quintet. They released a recording of new compositions for ECM Records this year.
In the tradition of "King" Oliver with "Jelly Roll" Morton and Louis Armstrong with Earl "Fatha" Hines, Iyer and Smith explore the rich, resonant textures of the distinctive combination of piano and trumpet.
Every two years, Occidental is able to bring a well-known and exciting music or performing artist or group to campus through the G. William Hume Visiting Arts Fellowship. Opera star Frederica von Stade, percussionist Evelyn Glennie, pianist Awadagin Pratt, the Flying Karamazov Brothers and Culture Clash are among previous Hume fellows. The fellowship is funded through the G. William Hume Trust, named for Bill Hume '50, a former College dean of students, professor and director of Thorne Hall.
For more information about this year's events, please click here.