Submitted by kwall_admin on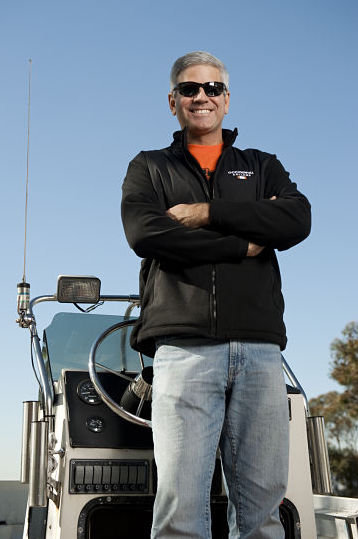 Occidental College's associate professor of biology Dan Pondella is helping to spearhead a project to build a sophisticated new marine biology research complex in San Pedro.
The proposed 28-acre oceanfront campus would serve as the new home for the Southern California Marine Institute, a consortium of 11 college and university campuses. Pondella is president of the board of directors of the institute and has been busy coordinating between the Port of Los Angeles and the complex's architects, fundraisers, and the universities involved.
 "This is a completely unique project and our work on this is unlike any other marine lab we know of in the world," Pondella, also chair of Occidental's marine biology department, told the Long Beach Daily Breeze. "It's a complete win-win for the surrounding communities, the harbor and the schools involved because it will be a job creator and an excellent teaching tool for students in our area."  
A plan for the complex, which would include research vessels, high-tech laboratories and a wave tank along San Pedro's waterfront, was released in late May. If approved by the L.A. City Council and the Board of Harbor Commissioners, the facility would share space with government researchers, marine-related businesses and environmental groups. Occidental students would have access to a variety of marine programs at the new facility. "We will have the opportunity to base some of our programs there," Pondella said.
Geraldine Knatz, executive director of the Port of Los Angeles, originally proposed the idea in 2009 and has been instrumental in working with private donors and the city to develop a fundraising group that will foster the completion of the project.
Plans call for equipping the new SCMI facility with classrooms, offices, wet and dry labs, a 150-seat auditorium, water storage tanks, and an 18,500-square-foot floating dock with a dozen slips to accommodate small research vessels. Construction of the facility is estimated to cost $416 million over two phases, with the first phase lasting three years.
There also would be a 50,000-square-foot lab for the National Oceanic and Atmospheric Administration and berths for research vessels up to 250 feet long. One of the facility's main attractions would be a steel-reinforced concrete wave tank that would study the rise and fall of sea levels, sea shifts and the effects of tsunamis on the Pacific Ocean.
"Expanding the depth and breadth of opportunities for our students in Los Angeles is part of our strategic plan, and another important chapter in Oxy's storied marine biology program," Pondella said.