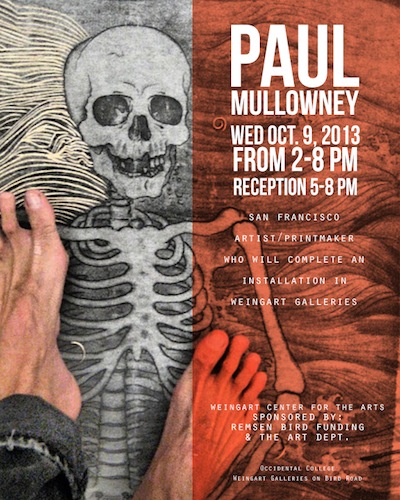 Master printmaker Paul Mullowney will be installing some of his work in Occidental College's Weingart Galleries as part of "Rethinking the Multiple," an exhibition of four renowned printmakers that opens October 9 at 5 p.m.  
"Rethinking the Multiple" was organized by Occidental art Professor Linda Lyke, based on the work of these artists who challenge the concept of the "multiple" and how social conditions can be addressed through visual forms such as artist books, installation and other printmaking strategies. Mullowney's installation is being completed with the assistance of Lyke's printmaking classes.
"I am thrilled to have Paul visit the printmaking students and work with our senior art majors while he completes an installation of his work," Lyke said. "Paul's art reflects his training in Japanese traditional printing craft [blended with] his own conceptual ideas."
Mullowney received his training as an etcher at San Francisco's prestigious Crown Point Press, where he became a master printer after working with artists such as John Cage, Richard Diebenkorn and Francesco Clemente. He went on to found Tokugenji Press in Nara, Japan. He was formerly director of printmaking at HuiPress, a fine arts publishing and residency program in Maui; he also held a one-year residency at Pacific Northwest College of Art in Portland, Ore. He currently has a studio in San Francisco.
Mullowney's installation is sponsored by the Remsen Bird Fund and the Art History and Visual Arts Department.
--Madi Tsuji '14