Submitted by kwall_admin on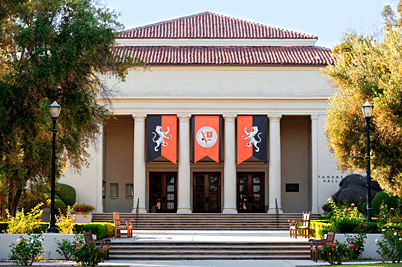 Occidental College students and recent alumni reeled in a record number of national and international awards this spring. 
Occidental broke its own record for most Fulbright award winners in a year, with a baker's dozen heading abroad to conduct research and teach. (The old record was set last year, with a dozen Fulbright honorees.) The College also had its first Fulbright winners for New Zealand and Switzerland.
This year's Fulbright winners are: Jacqueline Ayala '14 of Fort Bragg, going to Mexico with an English teaching assistantship (ETA); Asha Canady '12 of Sacramento, to Greece with an ETA; Tania Flores '13 of Chico, to Spain for study/research; Kristina Geiger '14 of Fairlawn, Ohio, to Switzerland for study/research;
Alexandra Loomer '14 of Burbank, to Ecuador with an ETA;
Ryan Metzler '14 of Doylestown, Pa., to New Zealand for study/research; 
Nicholas Nam '13 of Edmonds, Wash., to Turkey with an ETA;
Jason Prebel '14 of Kaneohe, Hawaii, to New Zealand for study/research;
Pablo Romano '14 of Santa Clarita, to Argentina with an ETA; Pauline Shoemaker '12 of Arlington, Va., to Bangladesh for study/research; Lauren Siverly '14 of Federal Way, Wash., to Argentina for study/research;
Juliet Suess '14 of Chicago, to Germany with an ETA; and Haiyun (Julie) Xu '14 of Northville, Mich., to Mexico for study/research.
The Fulbright program, which covers travel, education and living expenses, was established in 1946 under legislation introduced by Sen. J. William Fulbright of Arkansas. The program operates in more than 155 countries worldwide.
Four were selected as Coro Fellows—three for the Los Angeles Center (Jordan Dias '14 of Sylmar, Estrella Lucero '14 of Albuquerque, N.M., and Jennifer Pope '08) and one (Gregory Earnest '14 of Sacramento) for San Francisco – the most Oxy has ever had in one year.  All seven seniors who applied to Coro became finalists – another first.
The Coro Fellows Program in Public Affairs is a full-time, 9-month, graduate-level leadership-training program that prepares individuals for effective and ethical leadership in public affairs. Sixty fellows are chosen nationally each year through a highly competitive selection process. Each will take part in internships paired with lectures, seminars and individual and group projects throughout the duration of the fellowship. They will rotate through various organizations that influence and shape public interest.
Recent alumni Cecilia Prator '12 and Kosa Kendall Goucher-Lambert '11 received National Science Foundation Graduate Fellowships. The award provides a $32,000 living stipend and $12,000 per year for tuition for three years. Prator, a biology major from La Crescenta, is pursuing a Ph.D. in environmental science at UC Berkeley. Goucher-Lambert, a physics major from Portland, Ore., is pursuing a doctorate in mechanical engineering at Carnegie Mellon in Pittsburgh.
Anton Molina '15 of Daly City was honored with a Barry Goldwater Scholarship, the 36th Oxy student to win a Goldwater since 1990. The scholarship is for sophomores and juniors who plan to pursue careers in mathematics, the natural sciences or engineering. The award covers up to $7,500 annually for undergraduate tuition, fees, books and room and board. 
In addition, Marcello Saenz '14 of Alhambra was selected as a Capital Fellows Judicial Fellow. He will be working in Placer County. Fellows are enrolled as graduate students in at Sacramento State, attend regularly scheduled academic seminars, and are placed as full-time staff inside California trial and appellate courts throughout the state.
Christina Seyfried '15 received a Davis Project for Peace award. Seyfried, an economics and diplomacy and world affairs double major, and a peer from another academic institution will work in Ghana this summer implementing their project, Let There Be Light. The project will involve planting one hectare of Jatropha curcas, a plant native to the American tropics that produces seeds with an oil content of 37%. The oil from the plant's seeds will be used to create biofuel to use for sustainable energy for the school in the town of Kadelso.
Three Oxy juniors were named Public Policy and International Affairs (PPIA) Fellows at UC Berkeley: Jarron Brady of St. Louis, Samarah Jackson of Lancaster and Kerry Sakimoto. The PPIA Fellowship Program is designed to prepare college juniors or rising seniors from diverse backgrounds for graduate studies in public affairs or international affairs and groom them for professional roles in public service.
Mario Castillo '13 of Downey, a diplomacy and world affairs major, was awarded the Humanity in Action Fellowship. The fellowship brings together an international community of college students and recent graduates to explore different national histories of discrimination and resistance to injustice as well as examining other contemporary issues affecting minority groups. Castillo will participate in a month-long program in Europe this summer.


Henry Dickmeyer '15 of Seattle, an economics major, received the American Educational Research Assn. Fellowship Award. This is only the second year the AERA has provided these undergraduate fellowships, which include conference registration, accommodations and meals and other outreach experiences. Dickmeyer attended the AERA Undergraduate Student Education Research Training Workshop in April in Philadelphia.
Founded in 1887, Occidental is one of the oldest liberal arts colleges on the West Coast. Since winning its first Rhodes Scholarship in 1907, the College has consistently won national and international recognition for academic achievement and its global orientation.