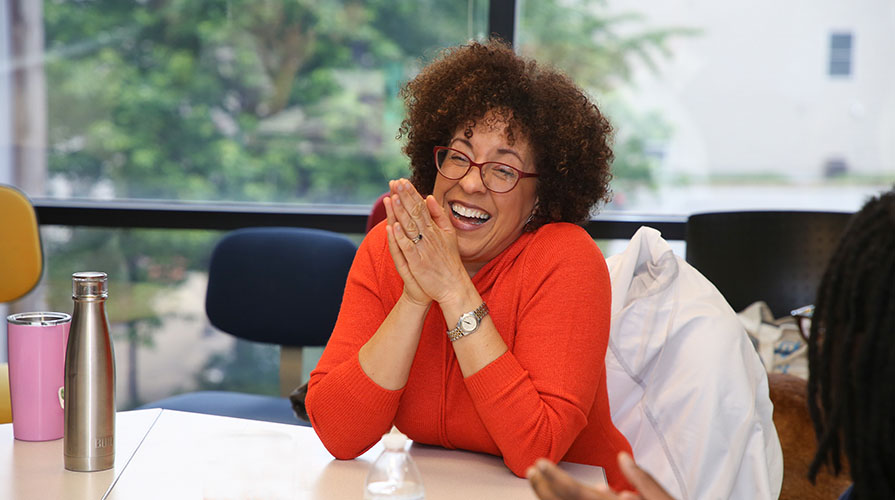 Literary historian, digital humanist and 2022 MacArthur Fellow P. Gabrielle Foreman will speak on "Why Didn't We Know?!: The Forgotten History of the Colored Conventions and 19th-Century Black Political Organizing" at 7 p.m. on November 7 in Occidental College's Choi Auditorium.
The community lecture focuses on Foreman's continuing work to recover early traditions of African American activism in the United States is the public highlight of her two-day return to Occidental as a Phi Beta Kappa Visiting Scholar, during which she will also visit classes.
Just last month, Foreman was named a MacArthur Fellow, popularly known as a genius award--one of 25 "extraordinarily talented and creative individuals" recognized by the John D. and Catherine T. MacArthur Foundation. 
Foreman, the Paterno Family Chair of Liberal Arts and professor of English, African American studies and history at Penn State University, served on the Oxy faculty from 1991 to 2012 as a professor of English and American studies.
As founding faculty director of the nationally acclaimed Colored Conventions Project (CCP) and founding co-director of the Center for Digital Black Research, Foreman is an "excavator uncovering what has been overlooked, undervalued or poorly understood," says Marlies Carruth, director of the MacArthur Fellows program.
Featuring digital exhibits, K–12 teaching curricula, and extensive teaching resources, the CCP is a scholarly and community research project that brings the world of 19th-century Colored Conventions Movement to digital life through dynamic partnerships and innovative collaborations.
"We know about white-led movements for social change in a way that has a tendency, in the public square, to overshadow Black brilliance, Black leadership and Black organizational capacity," Foreman told the New York Times.
"Why don't we know about Black-led movements? One reason is because they are saying the same thing we are saying today," she continued, noting that the conventions dealt not just with ending slavery but also with issues like equal pay, labor rights, voting rights and other issues that remain pressing almost two centuries later.
The talk, which is free and open to the public, is sponsored by Phi Beta Kappa, Office of the Dean of the College, and the Black Studies, American Studies and History departments. Choi Auditorium is located on the second floor of Johnson Hall.