Submitted by kwall_admin on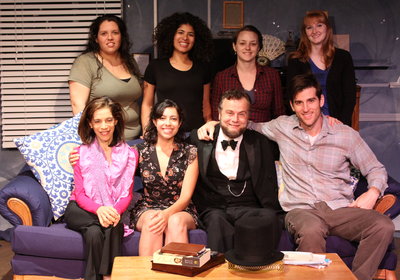 Four recent Oxy grads have produced, written, acted in and directed a play that is now being performed as part of the Hollywood Fringe Festival. In addition, Reconstruction was just selected as a "Critics Pick" by Backstage West.
Kaja Martin '08 directed and co-produced; Claudia Gomez Restrepo '10 wrote, co-produced, and performs the lead role; Courtney Dosenberry '09 did the scenic design and co-produced; and Alyssa Escalante '10 is head producer. The play combines the legend of Abraham Lincoln with the story of Sylvia, a young woman who comes to terms with her father's death through the help of her best friend, the Civil War-era president.
"Who knew Lincoln was such a cool dude? In her quirky new comedy, playwright Claudia Restrepo uses a smart blend of heart and history to look at how we heal, and hide, from life's tragedies," Backstage West critic Jennie Webb wrote. "Director Kaja Martin does a great job of guiding the terrific cast along the tightrope of the surreal; her shrewd staging steers clear of dangerous pitfalls."
Restrepo wrote the play in 2009 while a student at Occidental. It was then selected for the 2010 Occidental College New Play Festival, where it received a staged reading with professional actors.
The Fringe Festival is "an annual celebration of emerging artists in Los Angeles."
Presented by Theater Hound Productions as part of the Hollywood Fringe Festival at Lounge Theatres, 6201 Santa Monica Blvd., Hollywood, June 14–23. Remaining performances: Thurs., June 21, 8 p.m.; Fri., June 22, 11 p.m.; Sat., June 23, 11 p.m. All performances are pay what you can from www.hff12.org/783, and at the Fringe Box Office at The Open Fist Theater, or at the door. Call (323) 455-4585 or go to www.hollywoodfringe.org for more information.