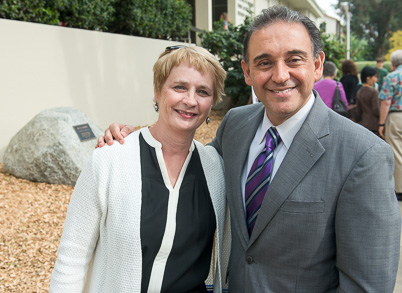 Dr. O's Garden – a permanent campus tribute to a beloved Oxy professor who died two years ago after a courageous battle with cancer – was formally dedicated on April 18 with a program that featured the presentation of the first-ever Dr. O Humanitarian Award.
The intimate garden space, located in front of the Norris Hall of Chemistry, is dedicated to Tetsuo Otsuki, the former Bertha Harton Orr Professor of Chemistry who inspired generations of students during his 26 years on the faculty.
"His office was always open, and his students found him challenging and empowering at the same time," said Phoebe Dea, Fletcher Jones Professor of Chemistry. "He mentored more than 100 Oxy students who became physicians, dentists, chemists, and scientists."
Among those at the ceremony was City of Hope oncologist Dr. Len Farol '94, Dr. O's former student who led the medical effort to save his mentor's life.
Before he died, Dr. O endowed the Dr. O Humanitarian Award to be presented at the discretion of the president "to a member of the College administration, staff or alumni in recognition of his or her extra efforts and outreach to enhance the life of the Oxy community."
He made it clear that this is not intended to be a conventional service award. Rather, he wanted it to provide recognition for what he called "the unsung heroes [who] should be rewarded for their extraordinary efforts in enhancing the life of the College…outside the scope of their job responsibilities that might otherwise be recognized."
Dean of the College Jorge Gonzalez presented the award to Carolyn Adams, the long-time executive assistant in the dean's office. "Thank you, Carolyn, for what you do for the College on behalf of all of us," Gonzalez said. "You truly are the embodiment of what this award is all about."