Submitted by kwall_admin on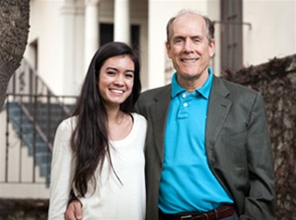 Douglas Gardner and his daughter Natalie were on a campus tour last spring when their guide mentioned Occidental's unique United Nations program.
Gardner, who spent almost 30 years overseas with the United Nations Development Programme, was curious - he had never heard of the program. Back in New York, he contacted Anthony Chase, associate professor of diplomacy and world affairs, about the possibility of finding Oxy interns for the UNDP.
One thing led to another, and today Gardner, the former UNDP deputy assistant administrator, has been appointed the new director of Oxy's United Nations program. Natalie, impressed by the U.N. students she met at an Oxy reception back in New York, was accepted early decision and will be joining the Class of 2016.
"It was good timing all around - a bit of serendipity. I'm thrilled to be at Oxy," said Gardner, the successor to Ambassador John Hirsch, who has retired after 10 years of distinguished service as director. "I love working with young people, and this means I can continue to work with the U.N."
In his most recent assignment in New York, Gardner was responsible for supporting the UNDP's country offices in the 136 nations it serves. Much of his work there involved facilitating "south-south" exchanges, promoting the flow of information between developing countries. Previously he served as the UNDP resident coordinator - an ambassador-level appointment by the U.N. Secretary-General -- in Cambodia, the Ukraine, and Mongolia.
He also held senior positions with the UNDP in Myanmar and with the U.N. Capital Development Fund in Burkina Faso, where he began his international career in 1974 as a Peace Corps volunteer. Gardner earned degrees in economics and English at Denison University and a master's degree in international management from the Thunderbird School of Global Management.
"We have an extremely switched-on group of students in DWA," said the Massachusetts native. "I hope to bring them into the reality of the United Nations and the U.N. system at the country level, not just New York."
More than 340 Oxy students have participated in the semester-long U.N. Program since it was founded by George Sherry in 1986. Students live in New York, intern full-time in an agency or NGO related to the United Nations or a foreign mission to the U.N., and attend two courses that form the academic foundation of the program.