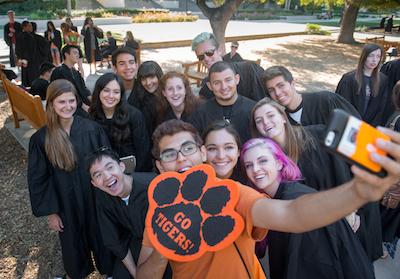 The Class of 2018 displays Occidental's student body's usual eclecticism, but with a new global twist—among the first-years is the highest number of international students in the College's history. 
The mostly Asian expats make up a full 10% of the freshman class, including 35 students from China, four from Singapore, three from Korea, two from the United Kingdom and one each from Germany, Indonesia, Jordan, Malaysia, Myanmar, the Philippines, Portugal, Taiwan, Thailand and Vietnam.
In addition, 94 students, or 17%, hold international citizenship (from 21 countries). Twenty-eight languages other than English are spoken at home. In 39% of homes of incoming first-years, either the student or their parents come from countries other than the United States.
The class contains 550 students total, with an average ACT composite of 30 and a median GPA of 3.68. The class is 57% women, 43% men; 51% are white, 18% Asian-American, 12% Latino and 7% African-American.  Forty-one percent are from California, 23% from other Western states, 16% from the Northeast, 8% from the Midwest and 3% from the South. The students come from 36 states and Washington, D.C., and 12 countries. 
Seventeen percent are the first in their family to attend college, and 21% are Pell grant recipients.
Sixty-six percent participated in athletics in high school, with that same percentage engaging in community service. One-quarter play a musical instrument, and 15% sing. Nearly a fifth were involved in student government, and 18% in writing or journalism. Nine percent participated in Model UN, and 7% in debate. 
Many got a jump on professional-level research activities while still in high school. One conducted baboon research at Duke University, while another studied particle physics at the University of Houston. In addition, the class includes two all-state cellists; a member of the British national "rounders" team; a self-published author whose three novels are on the Amazon best-seller list; a licensed pilot who routinely flies on medical missions to Mexico; a performer who sang backup on the Rolling Stones' 50th anniversary tour; and, of course, a pygmy goat breeder.
Occidental also welcomed 41 transfer students from 15 states and the District of Columbia, ranging from the New Mexico state Brazilian ju-jitsu champion to a propulsion operator on a nuclear submarine in the U.S. Navy to a refugee of the Syrian civil war.
"I think I'd be hard-pressed to find another college with a more eclectic collection of students of different backgrounds, experience and passions than our new class this fall," said Vince Cuseo, Occidental's vice president of admission and financial aid.