Submitted by kwall_admin on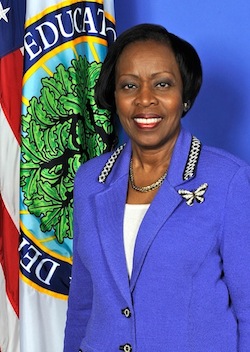 Rev. Brenda Girton-Mitchell, Director for the Center for Faith-Based and Neighborhood Partnerships at the U.S. Department of Education, will be the keynote speaker for the Interfaith Baccalaureate Service on Saturday, May 18. 
The service, which celebrates the spiritual dimensions of the undergraduate experience, will take place at 9 a.m. at Herrick Memorial Chapel and Interfaith Center.
Girton-Mitchell provides leadership to engage community-based organizations, both faith-based and secular, in building a culture of high expectations and support for education. She was appointed by President Barack Obama '83 in December 2010, and also works as part of the White House Office of Faith-Based and Neighborhood Partnerships. Prior to joining the U.S. Department of Education, Girton-Mitchell served as the associate general secretary for justice and advocacy for the National Council of the Churches of Christ in the USA.
Natalie Malter '13, a religious studies major and Spanish minor from Portland, Oregon, will provide the senior address. Malter, who will graduate with honors, is a member of Phi Beta Kappa, Mortar Board, and the Dean's List and the recipient of the Daniel Stewart Hammack Memorial Award, the Occidental Honors Scholarship, and the Values and Vocations Fellowship. While at Occidental, Malter was a programming assistant for the Office for Religious and Spiritual Life where she founded the Interfaith Council, co-founded the Muslim Students Association, served as president of Progressive Christians Uniting, and helped coordinate Occidental's initiative in the President's Interfaith Campus Challenge.