Submitted by kwall_admin on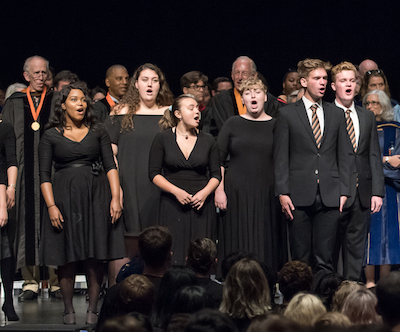 The Occidental College Glee Club will visit Austria and the Czech Republic this January during its "Celebrate Mozart" tour.
The group will arrive in Salzburg on Jan. 11, 2018, where they will perform in the Salzburg Cathedral and Mozarthaus (birthplace of Mozart's mother) the following day. On January 13, they will move on to Vienna for a recital in St. Michael's Church (featured in The Sound of Music) and performances in Minoritenkirche, Peterskirche and St. Stephan's Cathedral.
After visiting the graves of Beethoven, Brahms, Schubert and Straus, as well as the Mozart Memorial, in Vienna's Central Cemetery, the group will move on to Prague, performing at St. Nicholas Church on January 17. They will depart for home the following day.
The group will perform selections from Mozart, Schubert, Dvorak and other classical composers, as well as modern selections such as traditional American gospels and pieces made famous by Simon & Garfunkel and Michael Jackson.
"Half of it is European composers associated with the cities we are visiting: Mozart (Salzburg), Schubert (Vienna), Dvorak and Lukas (Prague). And half of it is American, which is what European audiences want to hear American choirs sing!" explained Glee Club Director Desiree La Virtu.
Here are the details of the Glee Club's tour performances:
Friday, January 12, 12:30 p.m.: Recital in the Salzburg Dom (cathedral), on the Domplatz
Friday, January 12, 7:30 p.m.: Performance at the Mozarthaus in St. Gilgen (outside Salzburg)
Saturday, January 13, 9:45 a.m.: Recital in St. Michael's Church, Michaelerplatz 4-5, Vienna
Saturday, January 13, 4:15 p.m.: Recital in Melk Abbey, Abt-Berthold-Dietmayr-Straße 1, Melk
Sunday, January 14, 7:30 p.m.: Performance in the Minoritenkirche, Minoritenplatz 2A, Vienna
Monday, January 15, 12:45 p.m.: Recital in St. Stephan's Cathedral, Stephansplatz 3, Vienna
Monday, January 15, 3 p.m.: Recital in Peterskirche, Petersplatz, Vienna
Wednesday, January 17, 2 p.m.: St. Nicholas Church, Prague
Currently under the direction of La Virtu, director of choral and vocal activities at Occidental, the Glee Club has played a central role in the life of the College since its founding in 1906, drawing musicians of the highest caliber. The Glee Club's reputation for excellence has also carried the banners of Occidental College far into the musical world, through national and international tours and recordings. The Occidental Glee Club focuses on the advanced study and performance of choral music. Emphasis is placed on the more difficult traditional choral repertoire, but world music and popular music are also celebrated.