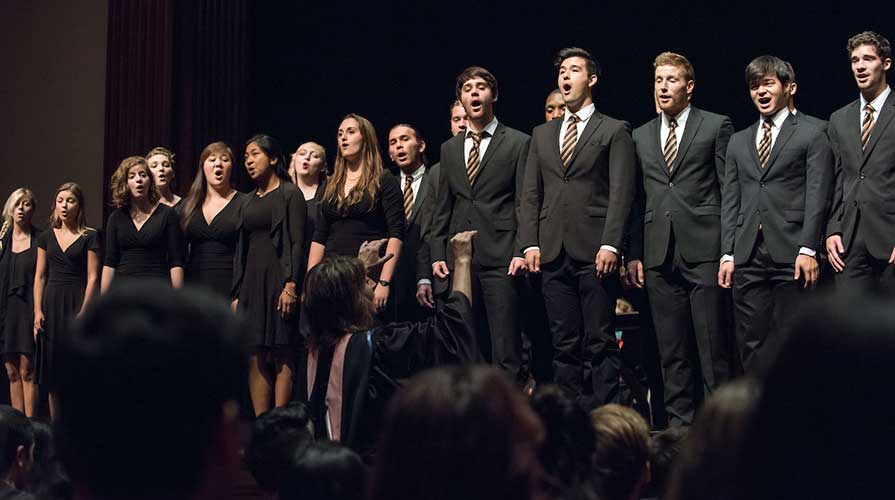 Continuing a century-old tradition, the Occidental College Glee Club will bring its signature blend of classical and contemporary masterpieces to venues throughout Southern California on its annual winter tour in January 2019.
Under the direction of Désirée La Vertu, the 40-member Glee Club will perform selections from Claudio Monteverdi, Ola Gjeilo, René Clausen, Pärt Usberg and Giuseppi Pitoni as well as traditional songs from Mexico, South Africa, and the United States.
All performances are free and open to the public.
Founded in 1906, the Glee Club has played a central role in the life of the College ever since. Touring, both regionally and internationally, has been a Glee Club tradition since 1907. While members reflect a wide range of academic majors, from philosophy and computer science to theater and music, all make a major time commitment to the group, with more than four hours of class time per week in addition to travel, performances and competitions.
La Vertu, director of choral and vocal activities at Occidental for the past decade, is a respected conductor, soloist, and voice teacher in Los Angeles. Previously, she was the director of the Glee Clubs at Caltech.
Tour performances are:
Friday, January 11, 2019 at 7 p.m.
Neighborhood Congregational Church
340 St. Ann's Drive, Laguna Beach 92651
Sunday, January 13, 2019 at 7 p.m.
First United Methodist Church
2111 Camino del Rio South, San Diego 92108
Tuesday, January 15, 2019 at 7 p.m.
Lowman Hall, Idyllwild Arts
52500 Temecula Road, Idyllwild 92549
Wednesday, January 16, 2019 at 7 p.m.
Sacred Heart Catholic Church
43775 Deep Canyon Road, Palm Desert 92260