Submitted by kwall_admin on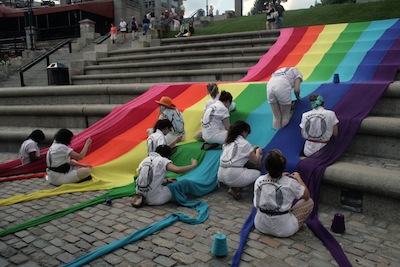 A $91,225 grant from the Kathryn Caine Wanlass Charitable Foundation will fund visiting artists and provide important studio equipment at Occidental College over the next two years.
A total of $37,000 will augment programming for a visiting artist in the 2013-14 academic year, as well as initiate planning for the Wanlass Visiting Artist Program. An additional $40,000 will support the inaugural year of the Wanlass Visiting Artist Program in 2014-15.
For 2013-14, mixed media artist Liz Collins will be at Occidental for a two-week residency in which she will work with selected students to create a temporary installation project on campus. In addition, lectures by national scholars engaged with Collins' themes will be supported by the funding.
Also during the 2013-14 academic year, the art history and visual arts department will apply a portion of Wanlass grant funds to buttress the concepts addressed in Professor Amy Lyford's spring 2014 course Reimagining the "Art of the West" at the Autry: Curation and Cultural Practice, taught in conjunction with the Autry National Center.
In the fall of 2014-15, the Wanlass Artist in Residence Program will bring a local emerging contemporary artist to campus for the full semester. In addition to teaching, the selected artist will create an exhibition or project on campus in conjunction with students.
The grant also provides $14,225 in tools and equipment for the Mullin Sculpture Studio.
"Support from the Wanlass Foundation will make an important contribution to the efforts of faculty members to continue to nurture relationships with Los Angeles' cultural and arts organizations, particularly at the time when the College's Strategic Plan has re-centered the arts as a vital core of the liberal arts," said Occidental President Jonathan Veitch.
Formerly part of the Marie Eccles Caine Foundation, the Kathryn Caine Wanlass Foundation is named in honor of Kathryn Caine Wanlass, a philanthropist who was known for her donations to the arts, education and the environment. Today, the Foundation is committed to continuing the family legacy.