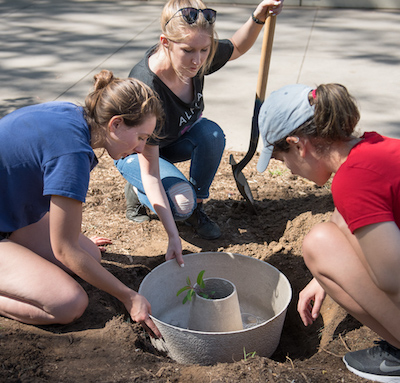 Dozens of Occidental College students, faculty and staff gathered March 17 to plant trees on campus as part of a pilot program with three community partners that could increase the survival rate of saplings while using less water.
Some 19 trees – all native species, including oaks, toyon, and California bay -- were planted on campus using lidded doughnut-shaped "cocoons" made of paper pulp and filled with enough water to last up to six months, slowly feeding the trees with a simple wicking system.
The shape of the cocoon – the sapling is planted in the "hole" in the middle, surrounded by the sides of the chamber holding the water – "encourages the tree to grow its roots deep and makes it less dependent on irrigation," says Jenny Low, Occidental's sustainability coordinator and event organizer. "The cocoon slowly biodegrades a year after the water runs out."
Occidental is the first organization to utilize the cocoon system in Los Angeles, Craig Tranby, environmental supervisor for the Los Angeles Department of Water and Power, told the volunteers who gathered on upper campus. "You're the model. We hope to replicate this with other partners, and eventually plant 2,000 trees like this around the city," he said.
Ordinarily in an urban setting, standard practice is to plant trees that are anywhere from six to 12 feet high in an effort to ensure their survival, said Alex Villalta, a certified arborist with the Los Angeles Conservation Corps. Using the cocoon system – developed by the Amsterdam-based Land Life Company -- makes it possible to plant saplings that are just 8 inches high and use just 10 percent of the water needed for the large trees.
The planting program represents a new collaboration between the College and three community partners – the DWP, Conservation Corps, and City Plants – and Land Life. The decision on which species of trees to plant was a joint decision between biology faculty, Facilities Management staff, and students.
Another 21 cocoon trees will be planted on campus over the next several weeks.
Earlier this year, Occidental was designated a 2015 Tree Campus USA by the Arbor Day Foundation for promoting healthy trees and engaging students and staff in the spirit of conservation, thanks to the work of Facilities Sustainability Intern Skye Harnsberger '17, Low said.