Submitted by kwall_admin on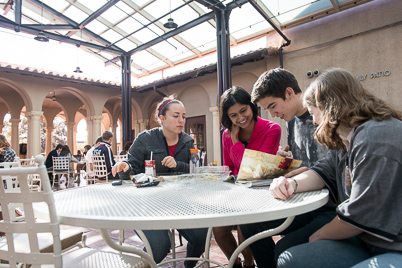 Each year a variety of college surveys slice, dice, and size up Occidental, serving up their results each fall. While the numbers vary, the bottom line is always the same: Oxy is one of the country's top liberal arts colleges.
Oxy is ranked highly in the latest editions of several major college guides, including U.S. News & World Report, Princeton Review's The Best 377 Colleges, the Fiske Guide to Colleges, The Insider's Guide to the Colleges, Forbes' "America's Best Colleges," Washington Monthly, Kiplinger's, and "SmartMoney."
Oxy ranked 35th in the Wall Street Journal's "SmartMoney" college rankings, which ranks schools by graduates' earning potential. The average salary of a midcareer Occidental graduate is $90,500, according to the survey. The campus ranked 47th in Kiplinger's 2013 Best Values in Private Colleges, based on academic quality and affordability.
High school counselors polled by U.S. News ranked Oxy 22nd among national liberal arts colleges, tied with Davidson, Grinnell, Hamilton, and Haverford. Occidental ranked 39th overall, tied with Pennsylvania's Lafayette College. It ranked 4th in ethnic diversity among nationally ranked liberal arts colleges.
Princeton Review gives Oxy a score of 95 for academics and selectivity and 96 for financial aid. Highlights of its student survey include: "No one cheats," "Students are friendly," "Diverse student types on campus," and "Great food on campus." Students are described as "happy, outgoing, and bright."
The Fiske Guide gives Oxy four-star ratings in academics and quality of life and calls Oxy "an urban oasis [with] a thriving community of high achievers who don't for a moment believe that the liberal arts are dead, or even wounded." The Insider's Guide adds that "The countless opportunities for work and play at Oxy really set it apart from other colleges of its size."
The Newsweek/Daily Beast 2012 rankings judged Occidental's Eagle Rock campus –- which will celebrate its centennial in 2014 -– as the sixth most beautiful and the 12th happiest in the country.
One of the newest rankings, created by Alumni Factor, placed Oxy 32nd among liberal arts colleges for intellectual development and 33rd in preparation for career success. "Oxy grads are well rounded and extraordinarily happy (17th among all colleges and 11th among liberal arts schools). Oxy ranks a strong 33rd in alumni giving -– a clear sign of the esteem in which alumni hold their school."
The quirky nature of some of the surveys is reflected in some of Oxy's latest scores. Occidental is ranked eighth under "unique traditions" in Unigo's annual survey. The traditional fountain birthday dunk is what put the college ahead of the pack.  College Prowler ranks Oxy No. 9 nationally for "most lenient parking."