Submitted by kwall_admin on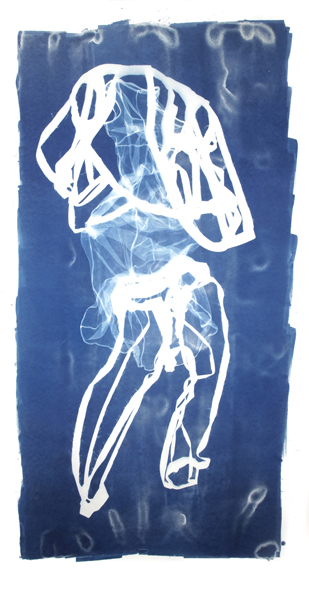 A dynamic series of unique cyanotype photograms by Occidental College artist Mary Beth Heffernan will be on view for the first time in a new solo exhibition at the Bergamot Station Arts Center in Santa Monica from September 12 to October 17.
Comprised of 10 large-scale works on paper, Blue utilizes two early photographic techniques to articulate themes of human intimacy and loss and the myriad ways the dead and the living continue to animate one another.
In a review, the Los Angeles Times called the exhibition "mesmerizing ... These spectral garments are surrogate souls, characters in a dance both intimate and emblematic." 
Blue began when Heffernan, associate professor of art history and visual arts at Occidental, created a simple sculpture "by gutting a man's suit, cut to resemble a limp skeleton, hovering around a dress made of tissue-thin material." She employed this sculpture as a drawing implement, placing it directly onto light sensitive paper so that its form registered as a negative.
This cameraless method of creating a photographic image dates back to the earliest days of the medium and produces results with arresting immediacy and distinctive, refined details that are lacking in prints created with negatives. Combining this method with the cyanotype process, Heffernan has produced a series of eight-foot-tall images at once sublime and fossil-like while evoking the physicality and dance-like movement of action paintings in their scale and calligraphic force. 
Tucker Eason '12 worked with Heffernan to produce the images as part of Occidental's annual summer undergraduate research program.
Since the 1990s Heffernan has used a multidisciplinary approach to explore themes of corporeality and its relation to images, words and other representations. In her early photographic works she sculpted flesh to resemble drapery. She has documented memorial tattoos on the skin of Marines returning from the Iraq War.
Earlier this year, she attracted international attention when at the invitation of the Liberian Ministry of Health she intervened in the Ebola crisis by placing headshots of health care workers on the fronts of their hazmat suits to reestablish a sense of human contact with their patients. Though Blue diverges in form from her other projects, Heffernan's underlying desire to investigate human relations, bodies and embodiments has never been more evident.
Heffernan's work has been exhibited widely at public and private institutions including the University of the Pacific, Idyllwild Institute of the Arts, Pasadena City College Art Gallery, High Desert Test Sites, LA Municipal Art Gallery, San Diego Museum of Photographic Arts, Torrance Art Museum, White Columns and Saide Bronfman Center for the Arts.
Her art is included in numerous private and public collections, including the UCLA/Hammer Museum, Light Work of Syracuse, N.Y., the Los Angeles County Museum of Art and New York City Library.