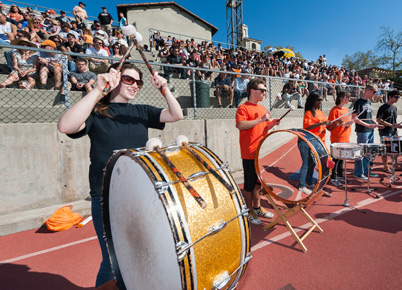 From the intensity of Southern California's oldest football rivalry to the dulcet tones of the Glee Club, Occidental's 125th-anniversary Homecoming & Family Weekend October 26-27 will provide fun and spectacle celebrating the College's past, present and future.
True to Oxy's tradition of diversity, the schedule of events has something for everyone to enjoy.
Those alumni and parents who miss the stimulation of attending lectures and listening to impassioned intellectual discussions will have the chance to sit in on some classes that Friday.
Alumni and parents also are invited to attend the dedication of the newly renovated Swan Hall, a "Classroom-to-Career" panel for young graduates seeking post-graduation career advice, and more athletic events, including the women's soccer team versus Chapman and the volleyball team versus Redlands.
Alumni and parents are can take campus tours; watch the student car parade, in which students will decorate their cars to vie for the Tiger Spirit award; attend a performance of the Occidental Children's Theater production of Crouching Tiger, Sleeping Beauty; and even participate in an alumni-only water polo game.
One of the highlights of this year's Homecoming will be the official launch of the Occidental Athletics Hall of Fame. Eight Tiger sports legends will be recognized in the inaugural class, representing the Oxy tradition of scholar-athletes. Olympic champions as well as outstanding college athletes and coaches make up this first set of hall-of-famers. Tickets must be pre-purchased and will not be available at the door. Seating is limited.
Homecoming will conclude with the Oxy-Pomona football game, celebrating the 117-year rivalry between the Tigers and the Sagehens. After the game, graduates of the last decade are encouraged to enjoy a post-game party at the York, with complimentary appetizers provided by the Alumni Assn.
Homecoming weekend begins Friday, October 26. For more information, visit http://www.oxy125.org/.