Submitted by kwall_admin on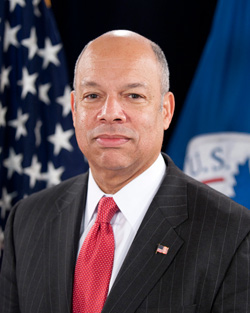 Head of Homeland Security Jeh Charles Johnson will be the featured speaker at Occidental's 2015 Commencement ceremony on Sunday, May 17.
Johnson was sworn in Dec. 23, 2013 as the fourth secretary of Homeland Security. Prior to joining DHS, he served as general counsel for the department of Defense, where he was part of the senior management team and led the more than 10,000 military and civilian lawyers across the department.
As general counsel of the Defense Department, Johnson oversaw the development of the legal aspects of many of the nation's counterterrorism policies, spearheaded reforms to the military commissions system at Guantanamo Bay in 2009, and co-authored the 250-page report that paved the way for the repeal of "Don't Ask, Don't Tell" in 2010.
Johnson's career has included extensive service in national security, law enforcement, and as an attorney in private corporate law practice. He served as general counsel of the Department of the Air Force from 1998 to 2001, and as an assistant U.S. attorney for the Southern District of New York from 1989 to 1991.
In 2004, Johnson was elected a Fellow in the prestigious American College of Trial Lawyers, and he is a member of the Council on Foreign Relations.
Johnson graduated from Morehouse College in 1979 and received his law degree from Columbia Law School in 1982.
Also receiving honorary degrees will be:
Daniel Ivascyn '91 is group chief investment officer of Pacific Investment Management Co. (PIMCO), one of the world's largest and most influential investment firms. He is lead portfolio manager for the firm's income strategies and credit hedge fund and mortgage opportunistic strategies. Morningstar named him Fixed-Income Fund Manager of the Year (U.S.) for 2013. Prior to joining PIMCO in 1998, he worked at Bear Stearns in the asset-backed securities group, as well as T. Rowe Price and Fidelity Investments. He holds an MBA in analytic finance from the University of Chicago Graduate School of Business.
U.S. Army Green Beret Staff Sgt. Scott Studenmund, the son of Woody Studenmund, Laurence de Rycke Professor of Economics, and his wife Jayne Studenmund, was trained as a sniper and an elite combat diver before reporting for combat duty in Afghanistan in January 2014. He told his family he intended to volunteer for least three more years of active duty before he was killed in action on June 14, 2014. He was 24 years old. The Bronze Star Medal winner is buried in Arlington National Cemetery.
Commencement will begin at 9 a.m. in the Remsen Bird Hillside Theater on the Occidental campus. Live streaming will be available for those unable to attend. More information is available here.