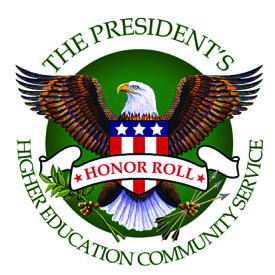 Occidental College has been named to the 2013 President's Higher Education Community Service Honor Roll with Distinction in recognition of its exemplary community service.
Occidental's embrace of community service and engagement is embedded in its first-year student Orientation, its curriculum, internships, co-curricular programs, and a set of longstanding outreach programs that date back to the 1960s.
"This honor really belongs to all our students, faculty, administrators and community partners who sustain our commitment to being a real and vital part of Los Angeles and the broader community," said Ella Turenne, Occidental's assistant dean for community engagement.
Each year, the Corporation for National and Community Service recognizes general community service work as well as service in designated special focus areas. This year's special focus areas were early childhood education and the Promise Neighborhoods model.
Occidental was one a handful of top-ranked liberal arts colleges named to the honor roll "with distinction," recognition bestowed on just 16 percent of the 695 schools named this year. Occidental has appeared on the honor roll five times since the national recognition program was launched in 2006.
During the 2011-2012 school year, nearly half of the student body –- 1,088 students in all –- engaged in some kind of community involvement, for a total of 77,825 volunteer service hours. Examples of community-based learning and engagement at Occidental include:
The Neighborhood Partnership Program (NPP), which provides tutoring, mentoring and college visits to help underrepresented middle and high school students gain the necessary skills to successfully transition into higher education.  NPP also manages Occidental's GEAR UP (Gaining Early Awareness and Readiness for Undergraduate Programs) partnership with the Los Angeles Unified School District, which annually serves more than 4,000 low-income middle school students from six local schools.
A group of four integrated courses for first-year students focused on the study of immigrant communities and experiences, the California Immigration Semester (CIS), required students to serve as tutors to students at two local elementary schools with a large number of students from immigrant families. Course readings and assignments for the four courses were closely tied to their work with the students, teachers, administrators and parents at the elementary schools. Thirty students spent a total of 1,200 hours tutoring and mentoring students from the two local elementary schools.
The College's Upward Bound program, one of California's largest and most successful; it serves more than 200 low-income first generation college-bound students each year.
The College's Farm to Preschool Program partners with childcare agencies, preschools and school districts to increase fruit and vegetable consumption and healthy food access among low-income preschoolers and their families.  In 2012 the program received a Recognition Award from Michelle Obama's Let's Move! initiative. Farm to Preschool served 3,300 individuals last year.
The President's Higher Education Community Service Honor Roll, launched in 2006, annually highlights the role colleges and universities play in solving community problems and placing more students on a lifelong path of civic engagement by recognizing institutions that achieve meaningful, measureable outcomes in the communities they serve.
CNCS has administered the award since 2006 and manages the program in collaboration with the U.S. Department of Education and the U.S. Department of Housing and Urban Development, as well as the American Council on Education and Campus Compact.
The 2013 Honor Roll recipients were announced at the American Council on Education's 95th Annual Meeting Leading Change on March 4, 2013, in Washington, DC.
More information on eligibility and the full list of Honor Roll awardees, can be found at nationalservice.gov. 
For more information about community engagement at Occidental College visit:
The Office of Community Engagement
The Center for Community Based Learning
The Urban and Environmental Policy Institute