Submitted by kwall_admin on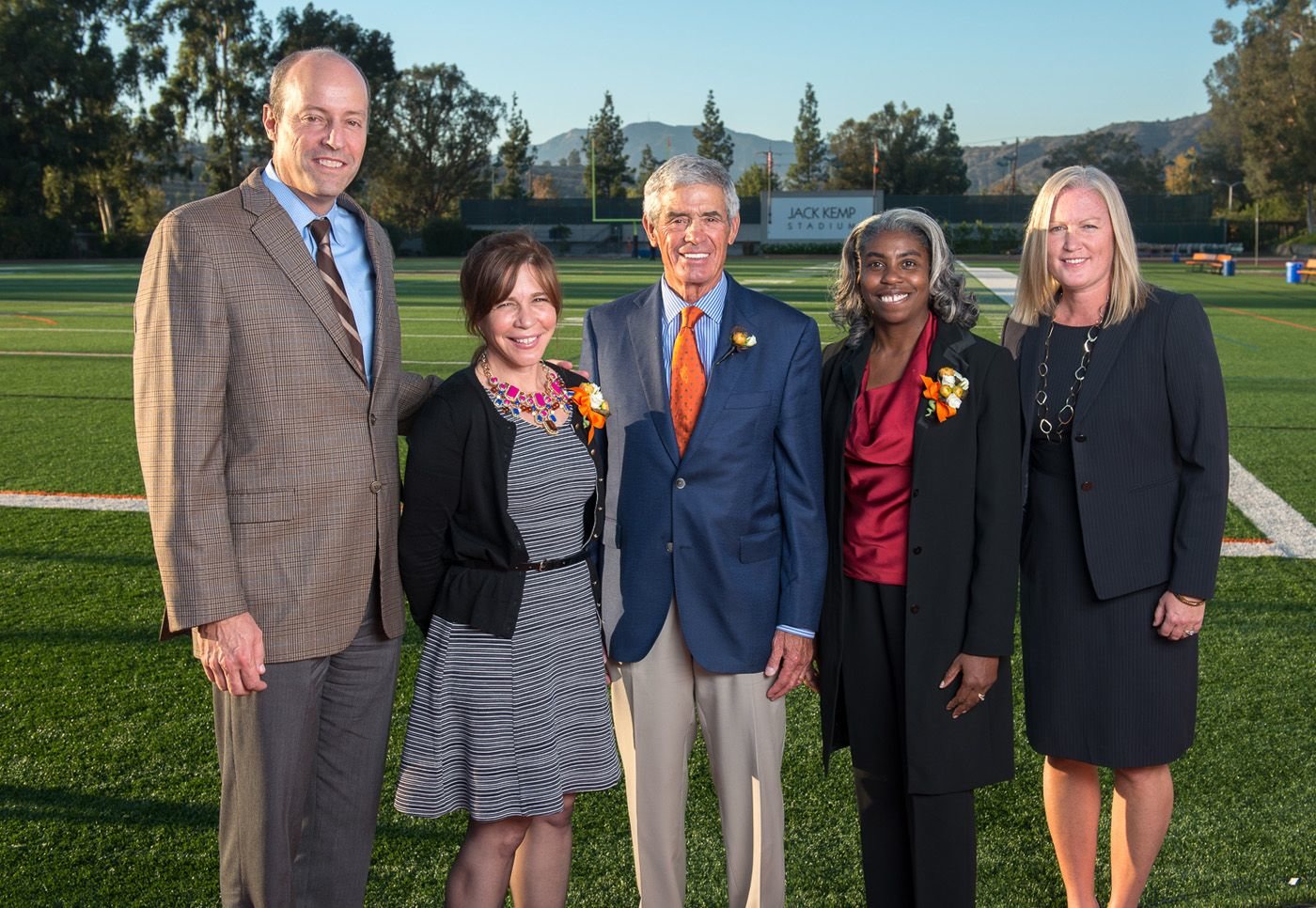 It was a night of memories, laughs and excellence as eight Oxy greats were inducted into the Occidental College Athletics Hall of Fame during the second annual dinner ceremony on Friday night.
Former NFL coach Jim Mora '57, NCAA women's track champion Jacqui (Dent) Ivey '92 M'95 and NCAA women's tennis champion Jean Marie (Sanders) Szakovits '84 were recognized in person on Bill Henry Track at Jack Kemp Stadium, together with Alphonzo Bell, Class of 1895; track stars Percy Hagerman 1906, Fred Thomson 1910, and Cliff Argue '24; and legendary Oxy coach and athletic director Grant Dunlap '46.
"It's just the second year that we've celebrated our incredible athletic legacy like this, but you can feel the excitement growing," said Hoffman, whose leadership led to the creation of the hall of fame. "I'm happy and proud to see this spectacular event becoming a featured event during homecoming weekend."
For Mora, who went on to enjoy a 15-year career as a head coach in the NFL, being recognized by his alma mater is an especially emotional honor.  
"When Jaime Hoffman called me and told me that I was going to be inducted this year I kind of got tears in my eyes," Mora said. "I feel really honored and proud to be inducted into the Occidental Athletics Hall of Fame. I was here last year for the first class and was hoping someday I might get in."
Mora played football at Oxy and was the Tigers head coach for three years after graduating. In 1965, his Tigers beat Whittier at Patterson Field and went on to win the SCIAC championship. "Of the years I coached here and played here, that was probably the highlight," Mora said.
In a videotaped tribute to Ivey, Bill Harvey '67, her former coach, described spotting her freshman year—a dedicated basketball player who had never run track. "She was a complete novice," Harvey said. "She turned out to be the finest female runner in Oxy history, the first woman to qualify for the Olympic trials."
In turn, Ivey—an eight-time All-American, national champion in the 400 and 800 meters, and still holder of four Oxy track records—said she owed it all to Coach Harvey. "When I arrived on campus that first year, I was on crutches with a knee injury. Coach Harvey asked me to try running, and I said no, I'm a basketball player. He asked me again, and I said no. He asked me numerous times. He saw something in me, even when I was injured, and I finally accepted the challenge."
Szakovits, who led the Oxy women's tennis team to the first ever NCAA Division III women's tennis championship, was introduced by her former coach and Kinesiology Professor Lynn Mehl, who presented her with her 1984 All-American certificate she recently uncovered. Her excuse? "There were so many of them."
Szakovits was a four-time All-American, four-time SCIAC Player of the Year, NCAA Division III singles and doubles champion, and the No. 1-ranked player in Division III in 1982, Mehl explained. "Not only was she this incredible athlete, but she's really smart. Jean Marie was a physics major at a time when not many women were physics majors."
Szakovits, now a senior engineer with Northrup Grumman, paid a fond tribute to Mehl, calling her "awesome," but former physics major couldn't help enthusing about her latest project at work: the James Webb Space Telescope, now being built to replace the Hubble Space Telescope.
Poor health kept Dunlap—a student, coach, athletic director and faculty member for nearly 40 years at Oxy—at home, but Dick Dorfman '68, manager and statistician for Dunlap's 1967 and 1968 teams, paid him a warm tribute. "He coached baseball for 30 years, and won nine conference championships—that's a .300 average, evidence of success in baseball," Dorfman said. "He coached basketball for 16 years, and won five conference championships." In the final measure, however, "his players are his legacy," Dorfman said.
Paul Finchamp '80, Oxy Tiger Club president and two-time football All-American, served as the night's master of ceremonies. Historian and Bell biographer John Pohlmann '62, David Appleton '67, Bob Lord '58 M'61 and Cliff Moffatt accepted on behalf of the posthumous inductees.
Resumes of Eight Inductees
Alphonzo Bell 1895: A tennis and business legend who won two medals at the 1904 Summer Olympics in St. Louis—a bronze in the men's singles event and a silver in the men's doubles tournament. During his time at Oxy, Bell was an inter-collegiate tennis champion, a Pacific Coast tennis champion and earned national rankings of fifth in singles and eighth in doubles. Bell eventually became an oil multi-millionaire and renown philanthropist. The Westside Los Angeles residential community Bel-Air is named after him.
J. Percy Hagerman 1906: One of Oxy's first great track and field athletes. A perennial contender in three events, Hagerman captained the Tigers his senior year, when he set an Oxy record of 23' 4.5" in the broad jump. He joined Alphonzo Bell 1895 at the 1904 Olympic games, where he finished in sixth place in both the long jump and triple jump as a member of team Canada. He was once named the Southern California Athlete of the Year and also Oxy's Athlete of the 1900 Decade. 
Fred Thomson 1910: A three-sport athlete at Oxy—a four-year letterman in football, he also played baseball—Thomson was best known as a record-breaking track athlete who could do it all: run hurdles, high jump, pole vault, shot put, or throw the hammer. Thomson won the 10-event, all-around national Amateur Athletic Union championship in Chicago (a predecessor to the decathlon) the summer he graduated (future Olympic president Avery Brundage finished third). Thomson went on to win two more all-around titles while a student at Princeton Theological Seminary. Thomson became a popular silent film cowboy actor before passing away tragically at the age of 38.
Cliff Argue '24: Cliff Argue played football and basketball for Oxy and was offered a pro contract in baseball, but it was as a sprinter that he lead the Tigers to three consecutive conference championships and set a college record of 9.8 seconds in the 100. He competed in the 1924 Olympic games in the pentathlon and later served a member of the Southern California Committee for the Olympics. His son John, also an Oxy grad, became a leading civic figure who was instrumental in bringing the Olympics to Los Angeles in 1984.
Grant Dunlap '46: A legend at Oxy for his incredible career as an athlete, coach, administrator and faculty member for 40 years. As an athlete, Dunlap was an All-Conference baseball and basketball player for the Tigers who went on to play Major League Baseball for the St. Louis Cardinals for one season in 1953. In 1955, Dunlap came back to coach at Oxy where he led the baseball team to nine conference championships and the basketball team to five. Dunlap was awarded faculty emeritus status by the time he retired in 1984.
Jim Mora '57: A tight end for the Occidental football team, Mora later served as Oxy's head coach for three seasons before moving on to a successful 15-year head-coaching career in the NFL with the New Orleans Saints and Indianapolis Colts. His NFL teams advanced to the playoffs six different times and he finished with an overall regular season NFL record of 125-106. Mora also enjoyed success as a coach in the United States Football League, earning coach of the year honors in 1984 and leading the Philadelphia Stars to two USFL titles.  
Jean Marie (Sanders) Szakovits '84: Arguably Oxy's most dominant women's tennis player since Pat Yeomans '38, Szakovits led the Tigers to four consecutive appearances at the NCAA Division III nationals, winning a national championship in doubles in 1982—the same year Oxy won its first-ever national championship in women's tennis—and a national singles title in 1983.
Jacqui (Dent) Ivey '92: Perhaps the greatest female track and field student-athlete in Oxy's storied history. Dent stole the show at the 1992 NCAA Division III Outdoor National Championships, winning national championships in the 400 and 800-meter events and a third as the anchor of Oxy's first-place 1,600-meter relay team.  She also earned All-American honors in the 200 that year. She holds Oxy records in the 400, 400 relay, 1,600 relay and the 800.
—Mike Wells